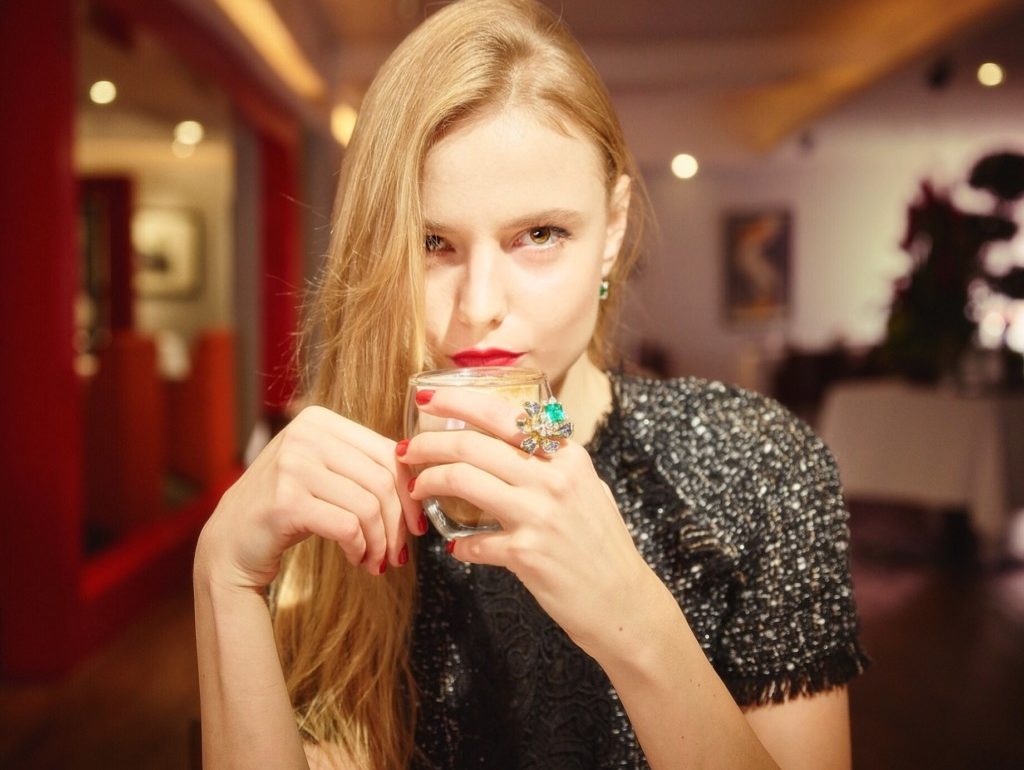 MICHELIN Guide 2016 
OK, so I am officially in heaven. I got to eat at not just one, but TWO Michelin starred restaurants in Singapore in my short trip here – not that any of the others I've been to have been bad – there's a couple more reviews in the pipeline now that I finally have some time to sit down and write. Stay tuned for more food to die for – I promise you won't be disappointed.
But first, the menu: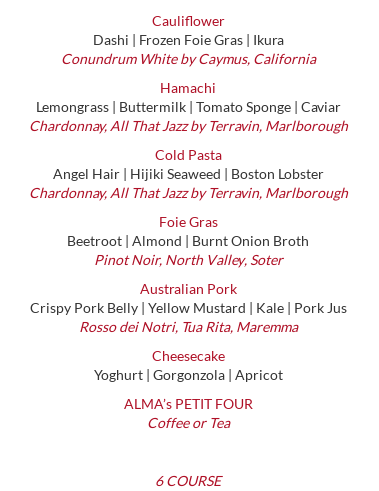 The price points are surprisingly affordable – for now – at the time of writing, it is still $168++ and another $58++ for the wine pairing.
Wine
I highly recommend that you opt for the wine pairing. The owner is a wine connoisseur and has amassed an incredible wine library, and just wants to share his love of wine with the world. The wine pairing works out to just $12 per glass – which in any restaurant in Singapore usually gets you a house wine. By contrast, most starred restaurants charge upwards of $40 for just a glass. No compromise on quality here though. Each wine was perfect The food is still the focus, but the wines they have picked really complement each dish perfectly, thus lifting that Michelin star just a little higher.
Amuse-Bouches
Sure, you already ordered six courses, but on top of that, the chef plays with your palate a bit before the meal starts – and a complimentary glass of Blanc-de-blanc (in celebration of their earning that precious star – go soon whilst they're still in that celebratory mood).  Since this is off-menu, you might get something different each day, but I'm sure it's all going to be whimsical and perfectly executed.
Here's the amuse-bouche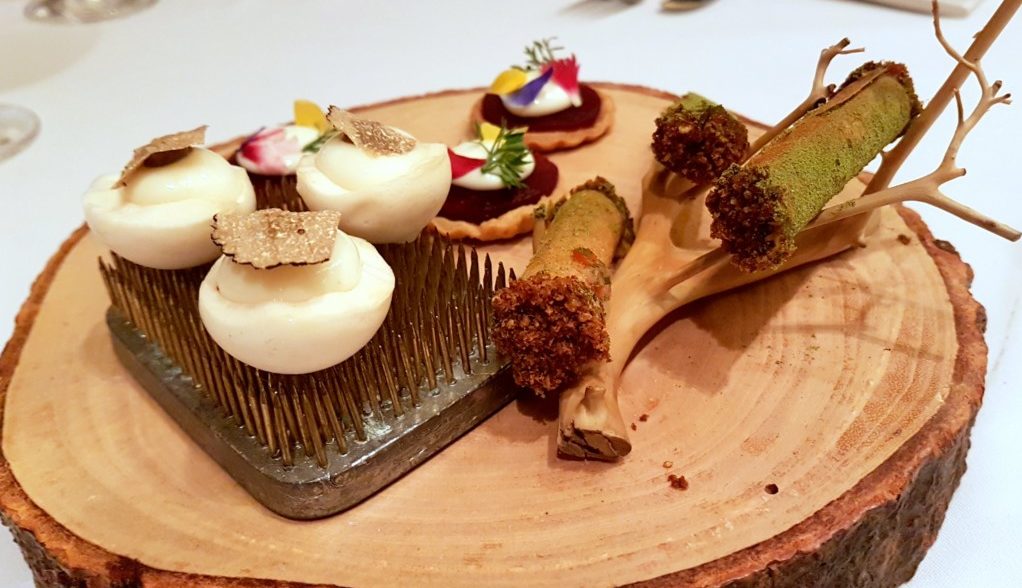 And a close up of the beetroot tarta (Spanish for tart) – note my perfectly groomed nails (thanks to Snails at Wheelock for that last minute appointment)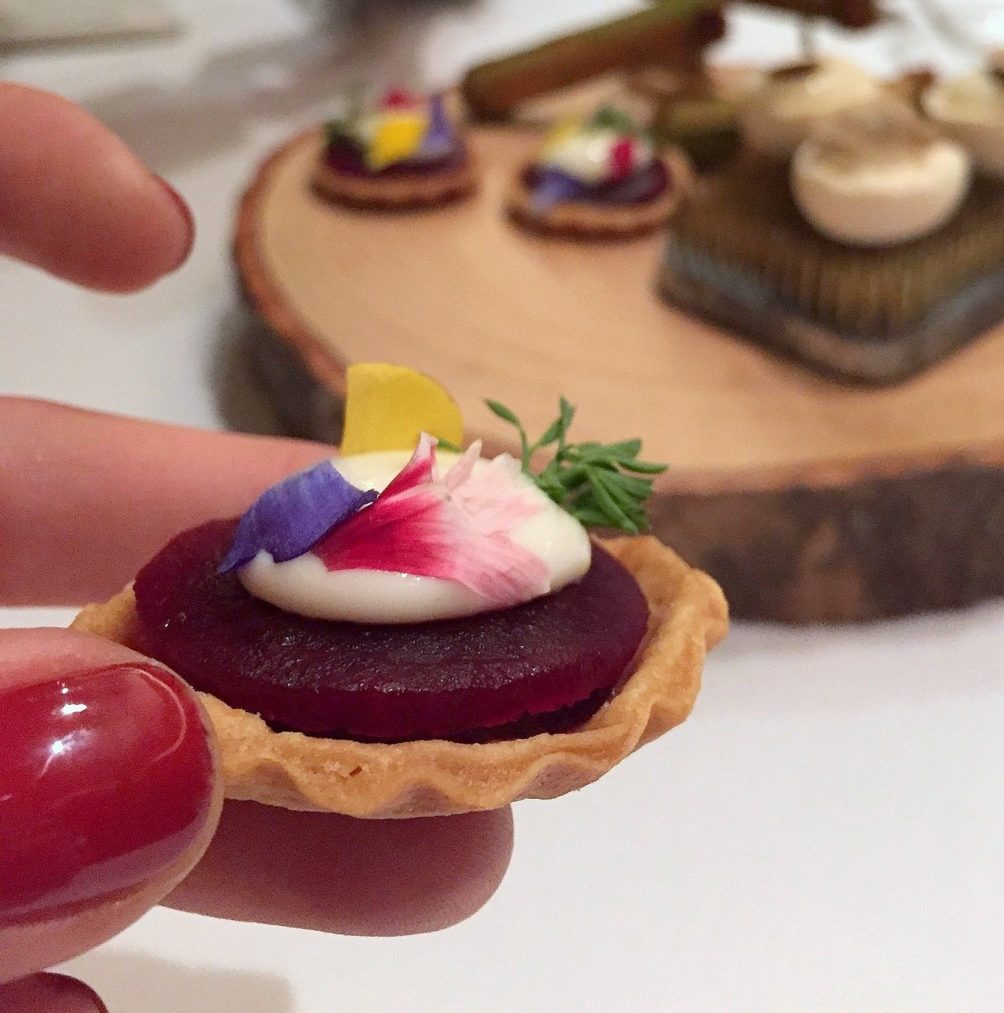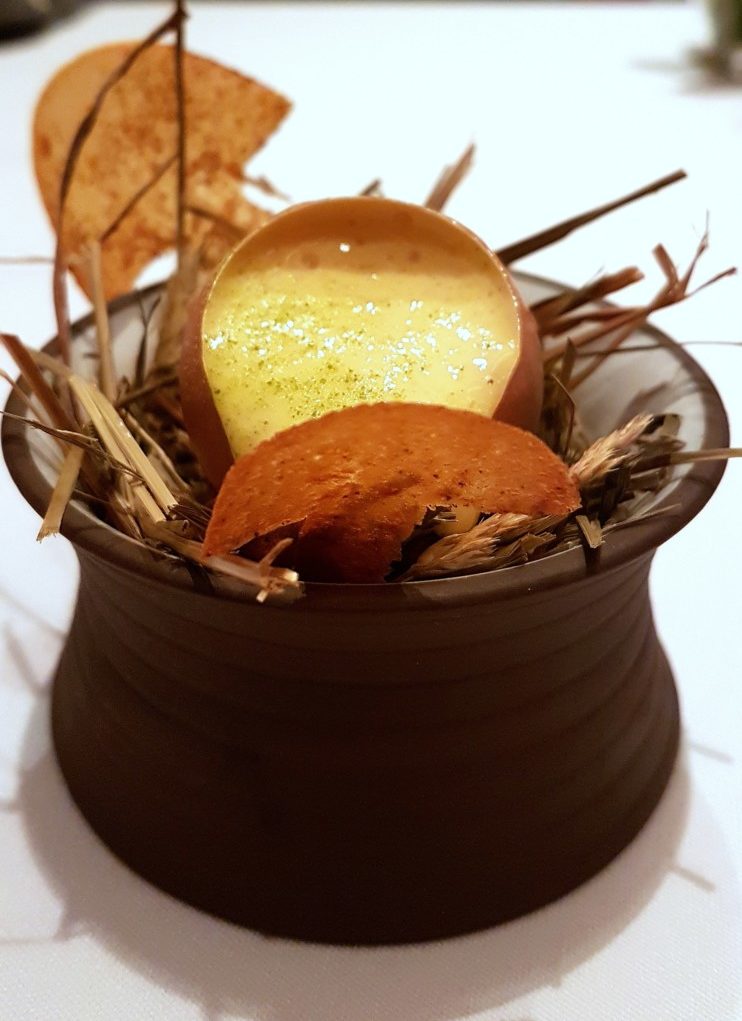 The second one is even more whimsical – eggs en cocotte in shell! I have trouble just making eggs en cocotte in a ramekin and here the chef has expertly blended it so that the egg is just cooked but still creamy and flowing.
CAULIFLOWER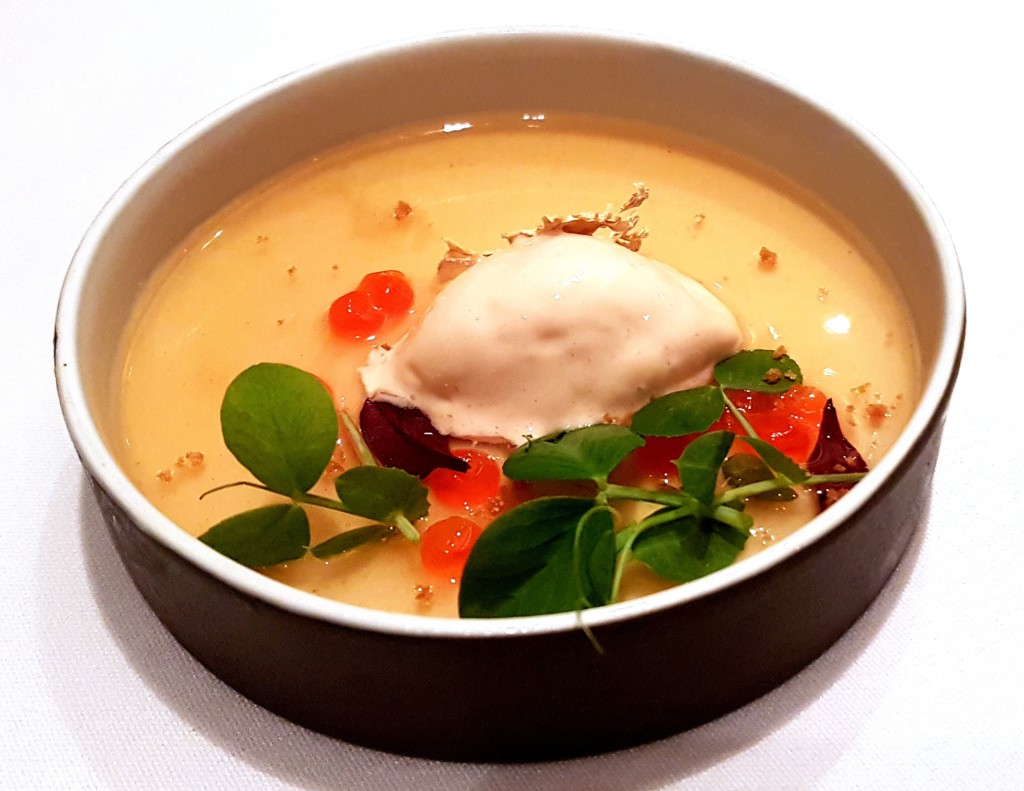 Alright, so the names of the courses are a bit misleading – confusing even. Cauliflower is really frozen foie gras topped with ikura in a pool of dashi. I stretch my imagination, but am unable to connect the word to the image in front of me. Will have to ask the chef after dinner.
Hamachi

The hamachi is lightly cured – the addition of a dab of caviar makes the whole dish just whimsical enough to lift it to food you can play with (not just eat).
Cold Pasta

This one I'm not completely sold on. Sure angel hair and hibiki is all good, but the boston lobster is sliced finely enough that you don't quite get the luxury of that rich lobster flavor leaping out at you. Cold lobster just doesn't quite make the most of the flavor potential (in my humble opinion).
Foie Gras

The tartness of the beetroot nicely offsets the richness of the foie gras. The burnt onion broth adds a certain smokiness that drives up the complexity of the taste profile – it's both sweet and umami.
Mains
X opted to stick with the pork, but pork isn't my thing, so I chose the wagyu ($12 more). E chose the seabass ($8 more) – that way we got to sample all three options. All were excellent, so it really depends whether you want pork, beef or fish. Our opinions were unanimous though – the fish wins on account of the magic that the chef weaved with the flavors. Not that you would be unhappy with either meat option.
Main – Australian Pork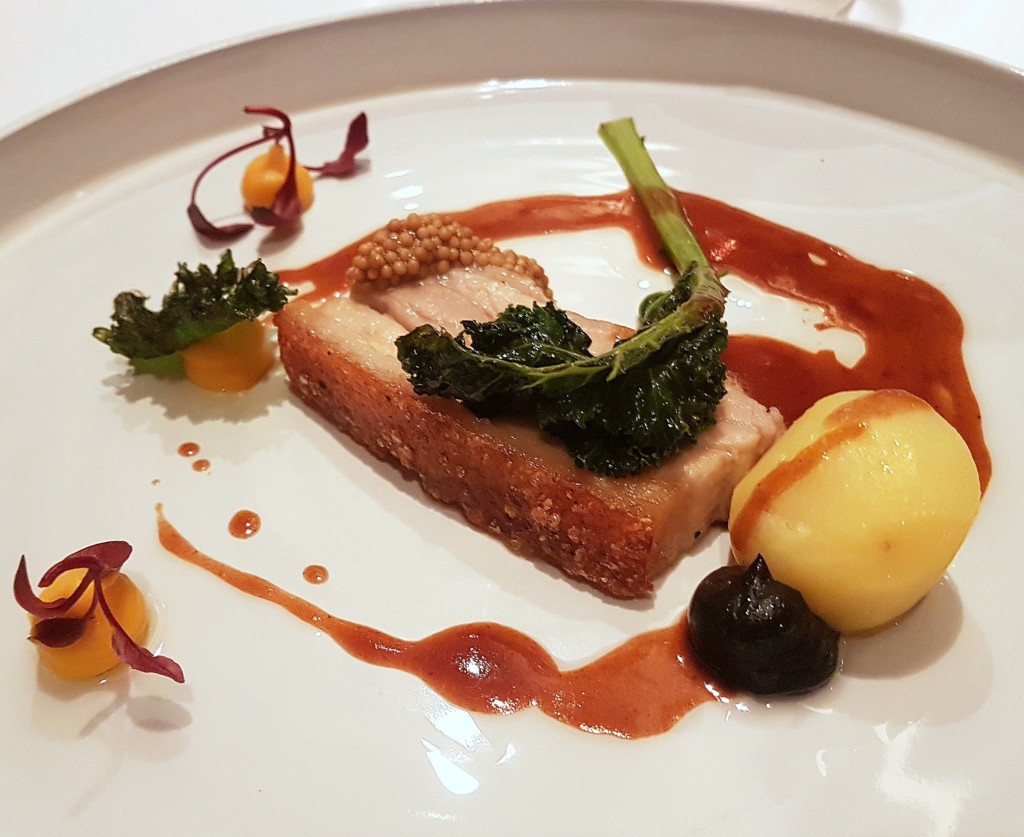 Crispy pork belly is just one of those things you either love or hate – for me, I do appreciate the crispy crust – but there's just overall too much greasiness in that layer of fat that is integral to belly pork for me to swallow. Having said that, the pork is sweet, firm but still yields swiftly to a fork.  The kale is more decorative than anything, and I would have preferred something spicier like Colman's to this Dijon style mustard.
Main – Wagyu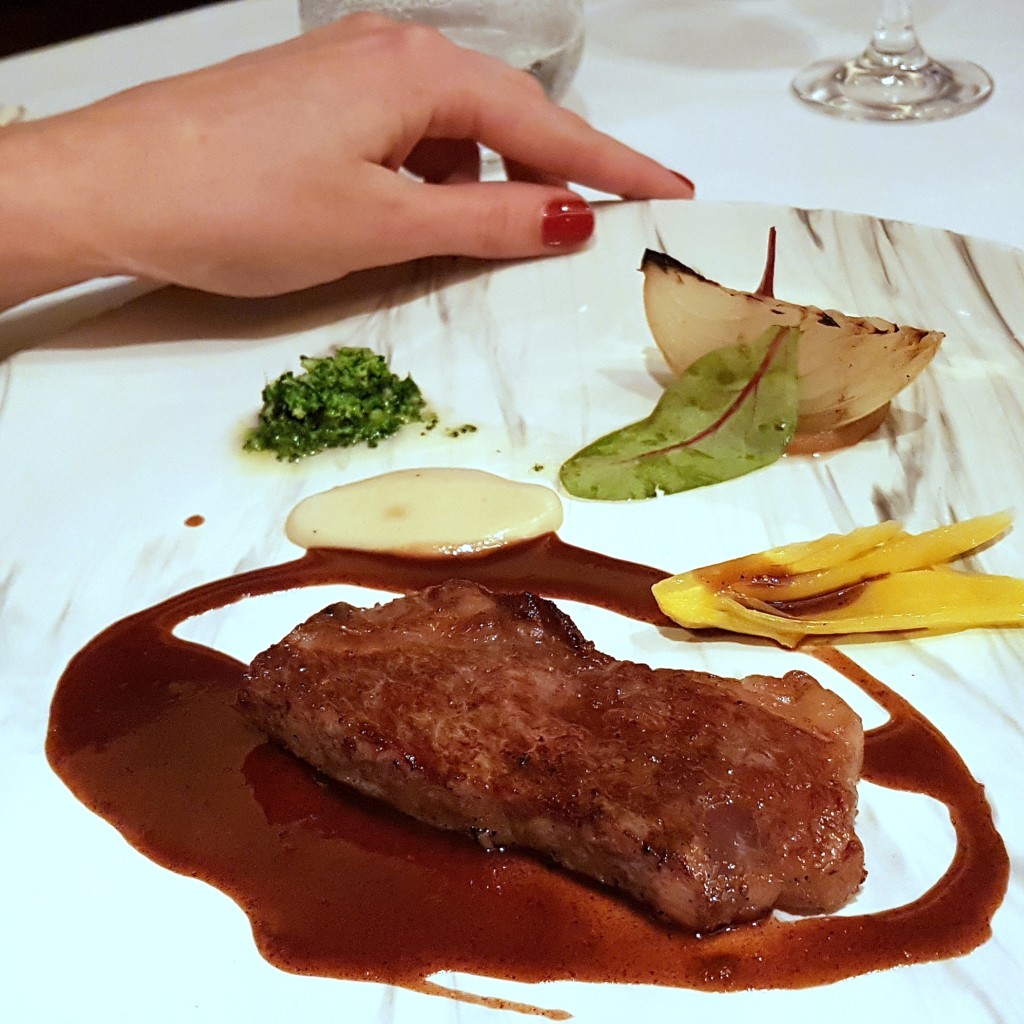 There's wagyu and then there's wagyu. I wouldn't say that Miyazaki A5 is the best beef you could ever find, but it's pretty darned close to it. Almost perfectly marbled, I make small slices and chew slowly, determined to absorb every last nuance of that super fine meat.
Main – Kingfish Belly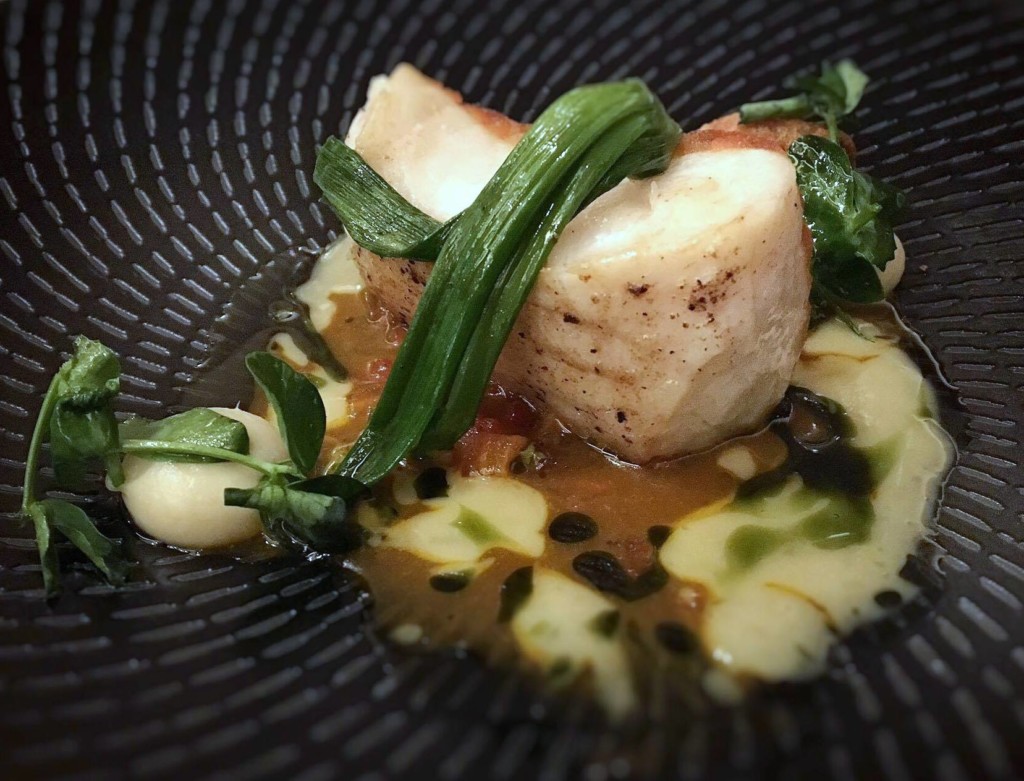 This was the star of the mains – the fish is mild and barely cooked – perfect. What drives up the taste quotient is the lemongrass, kaffir and whiff of saffron. Brilliant.
DESSERT and PETIT FOURS
The "pre-dessert" is a yogurt parfait with sweetcorn, brie and just a wee bit of sea-salt caramel.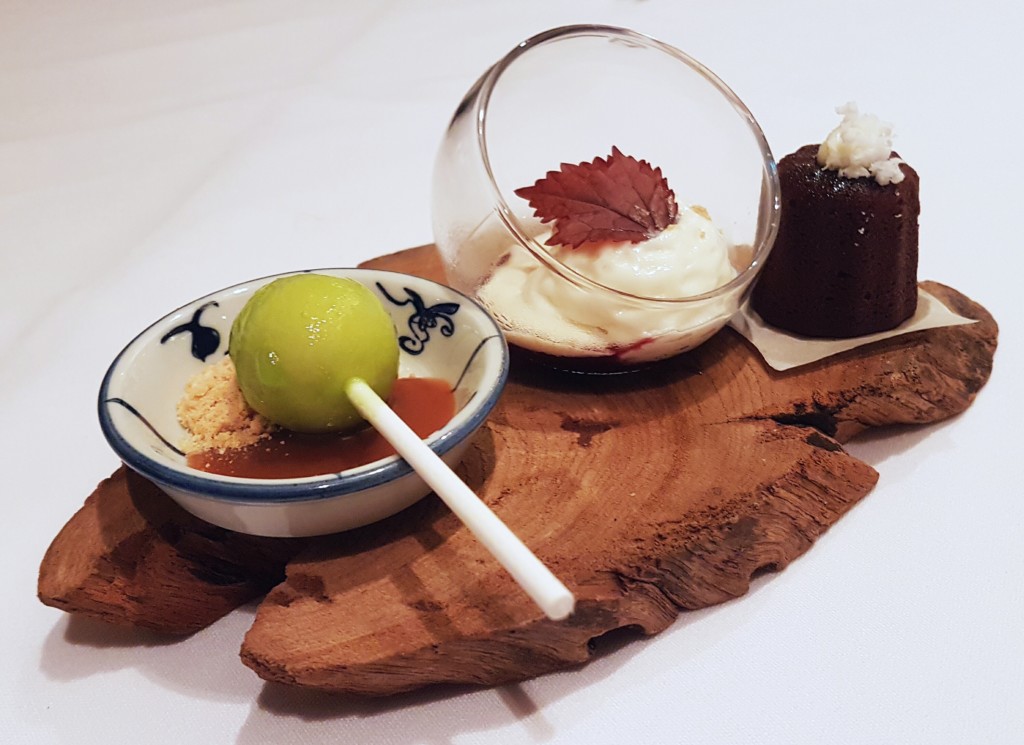 The petit-fours were good, but too sweet for my taste.  Also, they are off-menu and will likely be different by the time you get there.
No, the ring is not edible – just that it was so sparkly as I reached for my coffee that I decided to video it as well. Yes, it's real and no, you can't have it. Go buy your own – or at least one similar to it. The good folks at Caratell hand make each piece, so no two pieces are the same.  This ring is callled "Van Gogh Iris"  The centerpiece is an emerald, and the ring is embellished with emerald, sapphires, green garnets, yellow and white diamonds. And those of you with sharp eyes will recognize my signature rose-gold pen and Louboutin notebook.
 2016 MICHELIN Guide Singapore
In 2015 the internationally acclaimed eponymous chef took over the space at the Goodwood Park hotel previously occupied by Gaia. While the soul of the restaurant may be Spanish, his kitchen focuses on contemporary European cuisine with plenty of Asian influences – ingredients are carefully selected and preparations are sophisticated and well thought-through. The atmosphere is nicely relaxed and helped along by the good-natured service.
Meet the Chef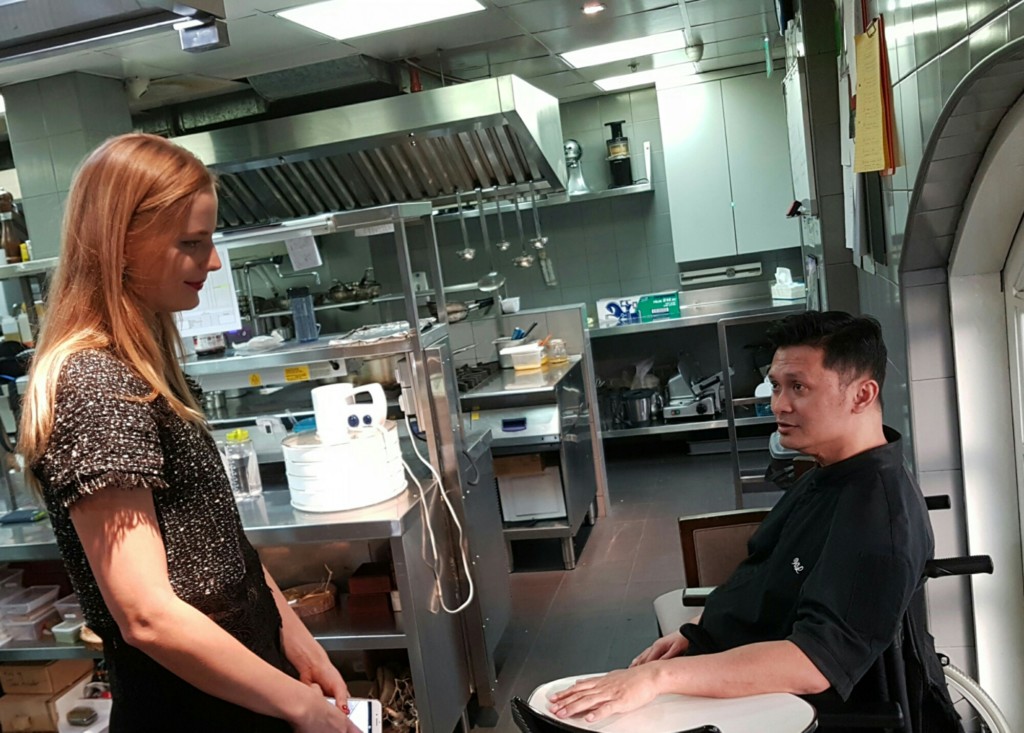 Here I am, have a tête-à-tête with Chef Haikal himself – who had invited me to dinner. His story is pretty amazing – after all, how many chefs do you know who manage to run any restaurant out of a wheelchair, much less a Michelin starred restaurant?  Turns out he was involved in a motorcycle accident in Pattaya, Thailand, and it left him paralysed from the neck down. Even though he now has use of his left hand (he's right handed), Chef Haikal explains "Cooking can be done in the head as well. I see and taste everything and watch how things are presented on the plate. The team members are my hands and legs. I may be in a wheelchair, but I can still make decisions and do tastings." – Wow. Just wow. Thanks both for the amazing food as well as the inspiriation, Chef Haikal. This is one dinner I shall not forget any time soon.
Conclusion
After just two one-star experiences in Singapore, my head is giddy with happiness – it feels like the Michelin inspectors have been very stingy with the stars. Both the places I got to sample were pushing the boundaries of that first star – hopefully they both get a second star in the next edition. I think I'll have to do a comparison with the one-star places in Prague – it's tough work, haha, but someone has to do it, so it might as well be me. Stay tuned, my friends – you won't be disappointed.
ALMA BY JUAN AMADOR
22 Scotts Rd,
Goodwood Park Hotel,
Singapore 228221