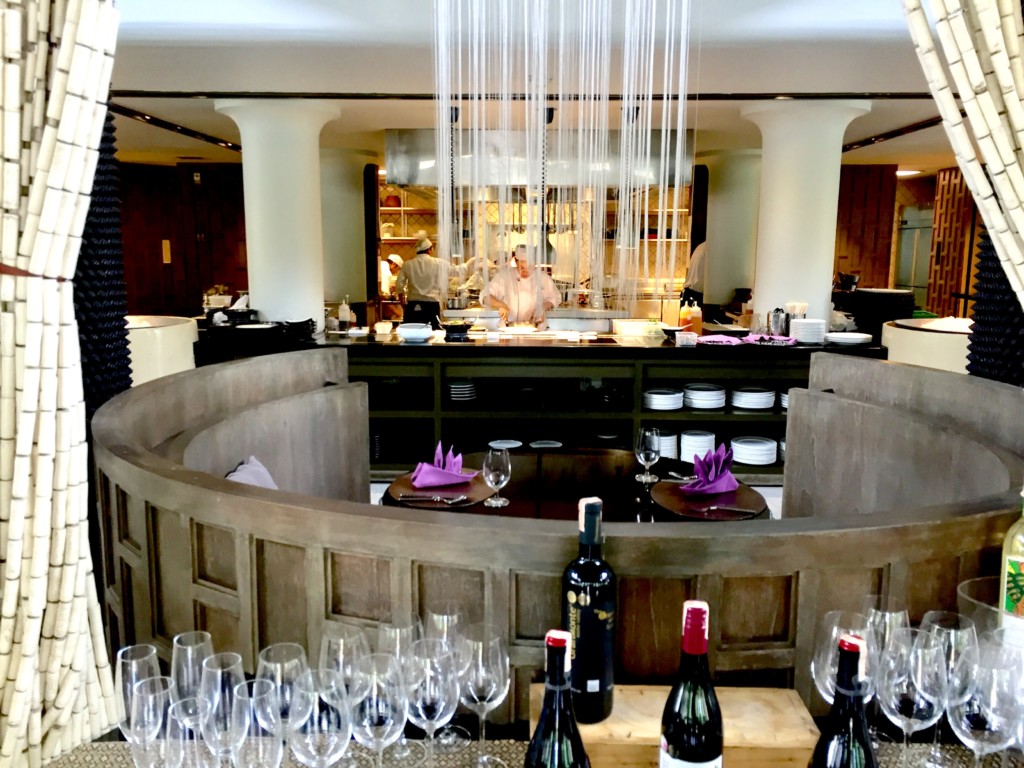 We've been driving an hour each way between the house and SALA Resort where the Asia Superyacht Rendezvous is being held. Since I'm not driving, I get to check out the "scenery". One resort in particular has an entrance that intrigues me – Anantara.
The high walls up front hint at hidden pleasures, so on the last day as we're shuttling over from SALA to the Phuket Yacht Show,  I get X to pull the car into the Anantara just so I can take a peek.
And we're richly rewarded –  inside is an idyllic paradise.  A tropical Eden awaits us.
We step into the restaurant right next to the lobby and I'm bowled away.  High ceilings and half-height booth seating make for a spacious and uplifting dining experience.
La Sala
We settle into one of the booths at the restaurant (which I later find out is called "La Sala" – exhausted but happy after two hours out racing on the Dallinghoo.
The sampling of regional Thai cuisine continues. The menu feels like it's designed as spa cuisine – everything sounds light and fresh. As it turns out,  that's exactly how what we ordered turned out.
Our three choices are here – I especially loved the simplicity of the Wok fried Morning Glory,  although I did ask for them to do it sans oyster sauce (couldn't handle it after a rocky sailing session)
The Wok fried fish was also quite delightful – perfectly done – neither under nor overcooked.
La Sala at
Anantara Mai Khao Phuket Villas
888 Moo 3 ,Mai Khao
Thalang, Phuket 83110
Thailand