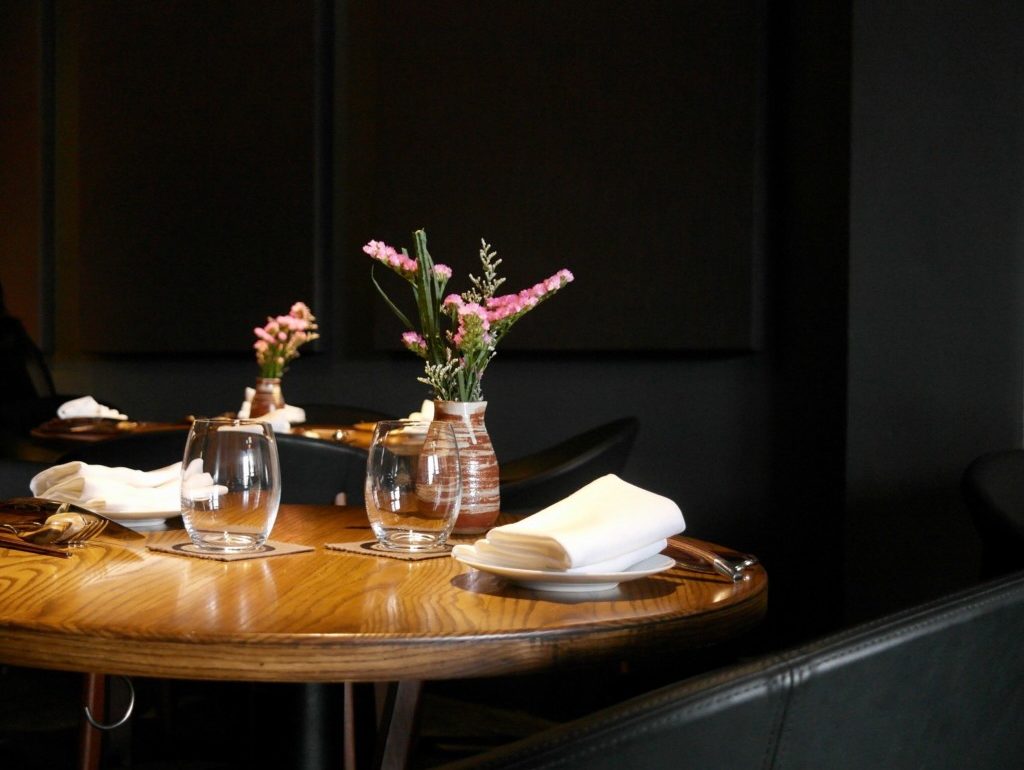 And bring your camera with you!
I'm always excited, when we are on the "hunt" to savor something "OH".. read on! This doesn't mean only "picture-worthy" menu. It means experiencing of flavors that gives as goose bumps!
We arrived in Keong Saik Road, infront of place with a sign "CURE".
Minimalist in its decoration, dark wood tables and perfectly folded napkins on the plates and beautiful flowers on each table. Having had the privilege of eating at a number of Michelin starred restaurants, I felt like I was in one. I laid my eyes on the  "A la carte" lunch menu and couldn't stop smiling once the first teaser arrived..
Starting with Amuse bouche – adorably bite sized  crispy sweet corn croquette and mayonnaise that just melted in my mouth.
This was followed by the bread basket –  slices of sourdough  that were crusty on the outside and fluffy on the inside. Served with bacon butter and fermented cabbage. These flavors were familiar,  as they echoed my Czech  heritage.
( Yes, we Czechs do love our bacon and fermented cabbage).
As we felt we were in good hands, we let Mr. Tim, the restaurant manager to advice on choice of white wine. I believe, you can't go wrong with "Omakase" wine.
Cure's style sets this beef tartar apart from the crowd – it's served with crispy flat bread, but the playful use of textures, all in different ways: shaved,diced, chopped and CURED!
Taking two " A la carte" items next, the snapper sits on top of cauliflower, with its crisps. Simple yet beautiful combination.
Mr. X opted for the other stunning dish – roast pork belly with a duo of burned cabbage and chorizo, sauces telling a story of the chef's history, damn he's got good taste!
And no wonder the menu is fabulous. The chef here is none other than Andrew Walsh – formerly with Esquina before he started Cure.  He's definitely made it his own playground.
The  story behind the name "CURE" – it's taken from the Latin word "curare", meaning "to take care of" – is very much  fine-dining even though the ambience and service of the restaurant are kept relaxed.
I really enjoyed the open kitchen concept. I find it more personal, you can see what is happening and waiting for comes next.
Finally,  lunch comes to an end, sadly. I wish I could have one more of this dessert lol. I am cured on the combo! Especially, because I love everything related to lavender scent..
This creations include milk sorbet layered with lavender milk mousse, milk meringue, lavender granita and crumbs of sweet honeycomb.
I give CURE a big plus for making fine dining accessible through its laid-back setting and reasonable prices, even during lunch " A la carte" menu and without compromising on the quality of its food.
 Stage for masterpieces of the edible kind!
Cure
21 Keong Saik Road, Singapore 089128
+65 6221 2189
www.curesingapore.com 
Lunch " A la carte"
2 Course $38 / 3 Course $46