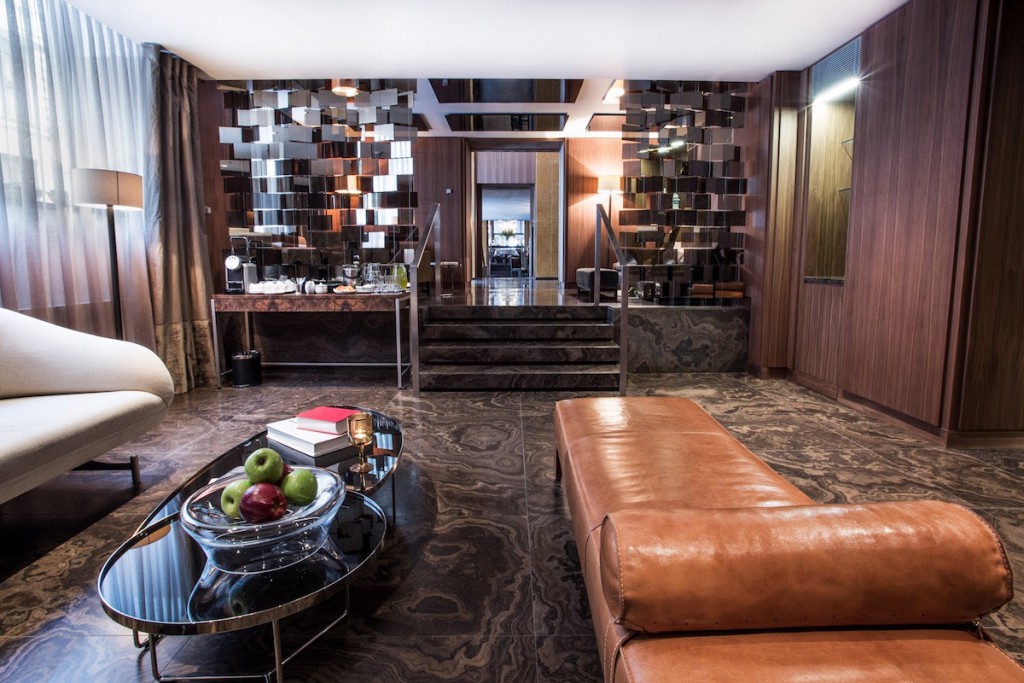 Springtime in Prague. What's not to like? The weather is starting to warm up after winter, so it's still crisp outside. The flowers are starting to bloom – it's just the loveliest time of the year to be here. Plus, you get to skip the interminable summer crowds. I'm often asked by visiting friends what my favorite hotel is in Prague and the answer is simple – Emblem Hotel.  Why?  Because it's got everything a girl needs – best spa in town, minutes to Prague Old Town Square, best steaks in all of Prague, beautifully appointed rooms, crisp sheets. Basically, I would live here all year if I could afford to.
Lobby
As they say – a picture is worth a thousand words. The lobby is compact, but beautifully appointed. See for yourself:

Maharal Club
The Maharal Club functions like a public social space or "living room" of the hotel – there are five rooms in total -The Pantry (also known as The Kitchen), The Salon, The Games Room, and The Drawing Room.
In the mornings, for people like me who desire a bit more solitude (yes, I can be quiet once in a while), there is self-serve espresso machine (none of that eco-unfriendly Nespresso capsule stuff) as well as freshly squeezed grapefruit juice.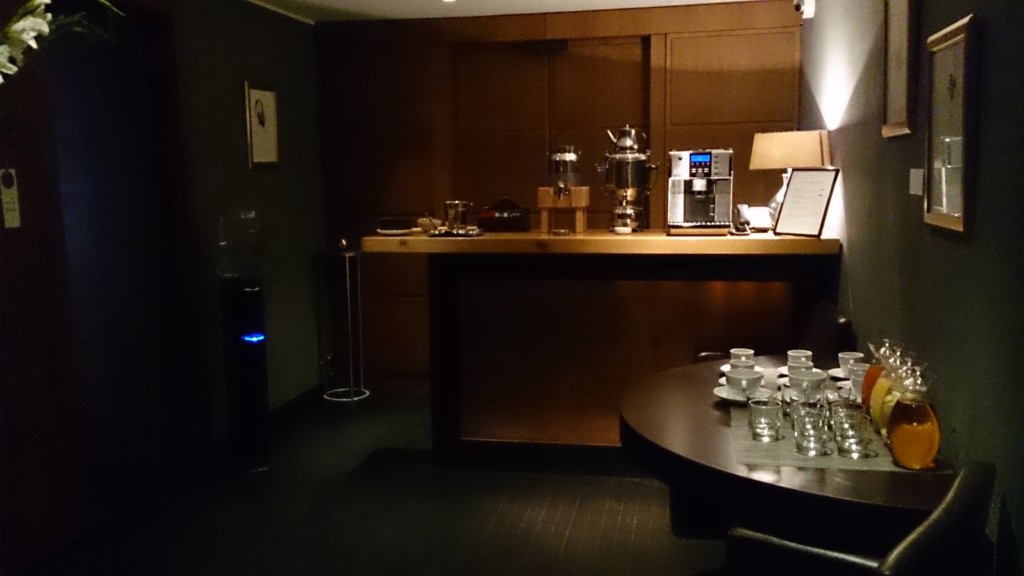 Evenings, The Pantry serves to host wine nights, but there is also a full Gaggenau oven setup in the back – for my inner chef that sets butterflies off in my stomach. Those beautiful copper lampshades are by Tom Dixon – some day when I have a ceiling high enough to accomodate such grandiose lamps.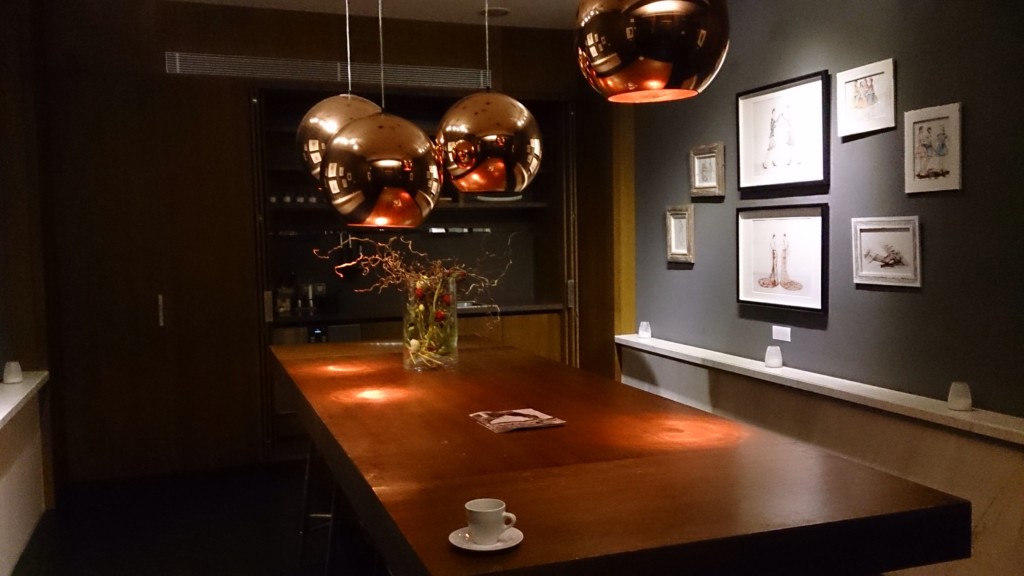 The Salon is the perfect place to do a movie night (perhaps in the winter, the weather is definitely way too nice now to stay in).  I did, however manage to catch a few minutes of a Japanese cooking show. And some tennis – before I got bored an started playing with my phone.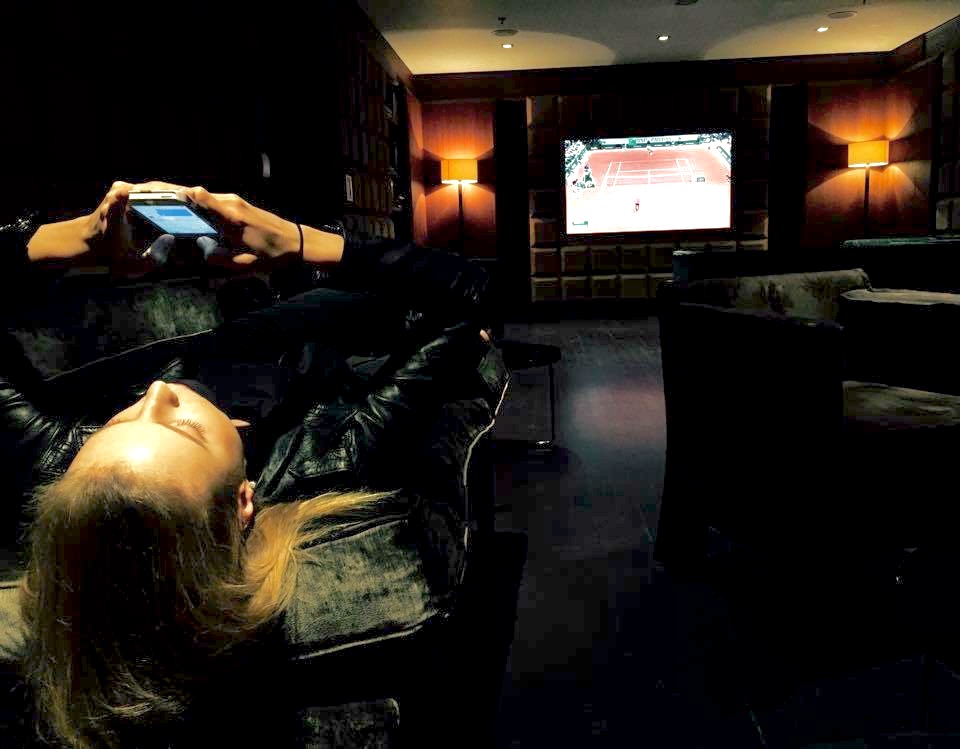 Rooms
I'm thrilled by my room – it has a balcony – and fresh flowers and all. Still no smoking allowed even with the balcony, but I'm just happy to open the window and smell the flowers.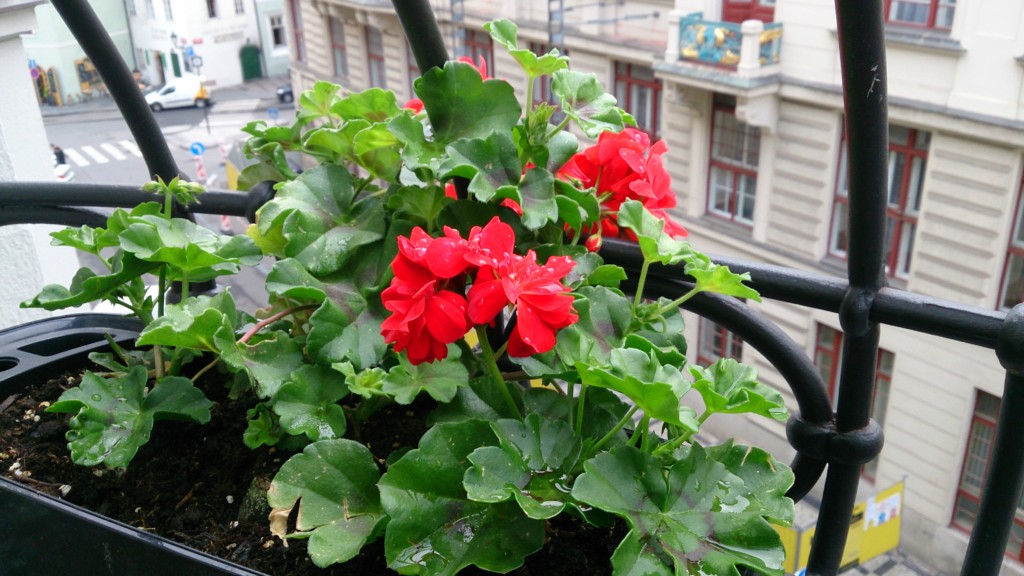 One thing you don't come across often even in luxury hotels is bath salts – I mean, why put in a bath tub if you don't want people to use it? Am I right?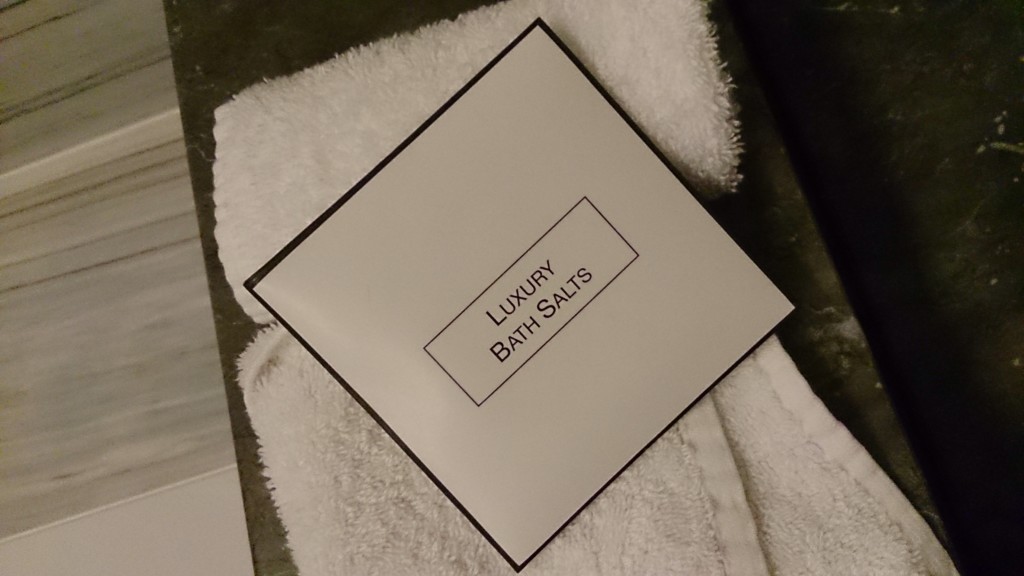 M Spa
The Spa is located on the top two floors of the hotel.  Here I am on the rooftop next to the jacuzzi – it's beautiful here in the evenings, and you can rent the jacuzzi by the hour (fits two, so romantic, sigh) and even drink wine (albeit in plastic glasses). As a resident of the hotel, you can roam freely the spa areas, lounge in the relaxation area and even have a free herbal/floral tea.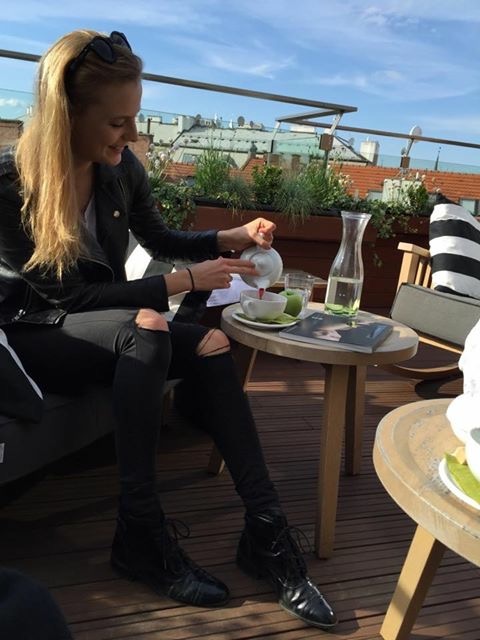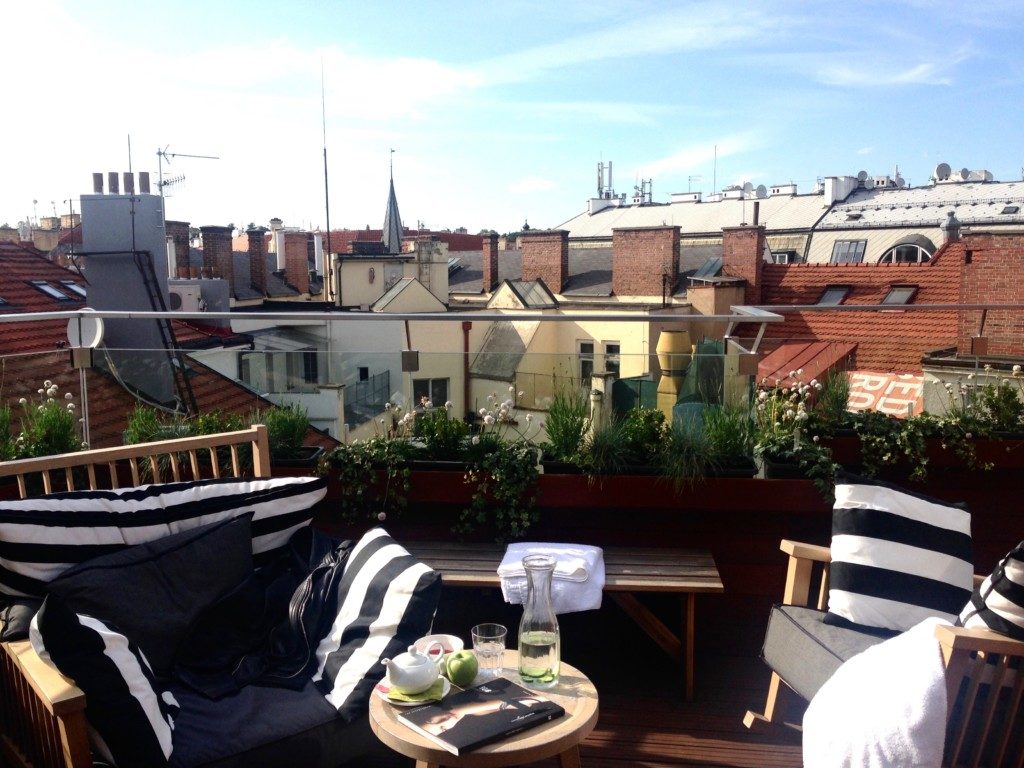 What I love most about the spa is their products – the Pure Altitude range of skin care products provides just the right touch of hydration for younger women like myself. Edelweiss (yes, that Sound of Music flower) happens to be a powerful natural protector against external stress and aging skin.

George Steakhouse
So thrilled to find that my favorite steakhouse in Prague (I would argue that it's the best in Prague) is listed in the Michelin Guide – and it has two couverts (that's covers in English), which signifies interior decor, table setting, or service quality that are of a "good standard".  No stars, but just to be listed in the guide is an achievement in itself.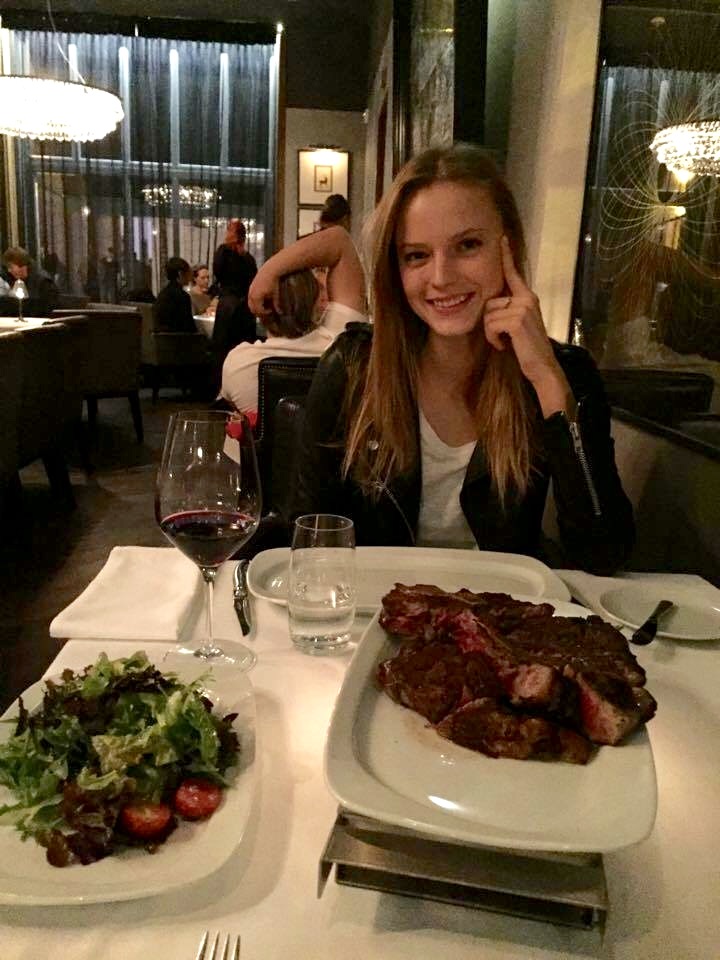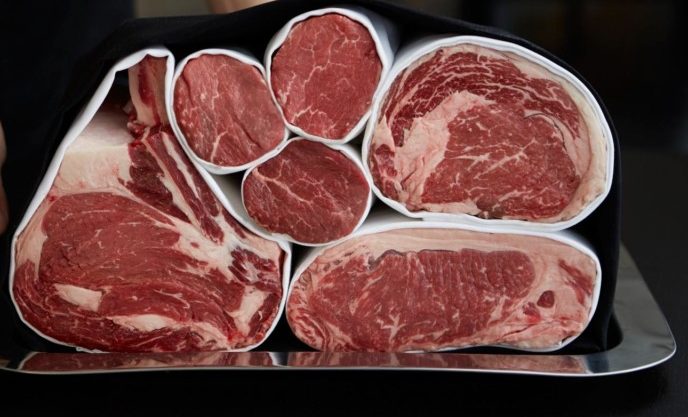 The beef is hormone and antibiotic free, and ethically sourced, so minimal guilt. Got to love these Black Angus USDA Prime Beef being wet-aged. What is aging, you ask?  Well, all meat needs to be aged so that the enzymes can break down the meat to something us humans can actually digest. Chicken needs a few days, while pork and lamb needs a week. Beef can be aged for quite a bit longer.   Personally, I prefer dry-aging, but that's just me.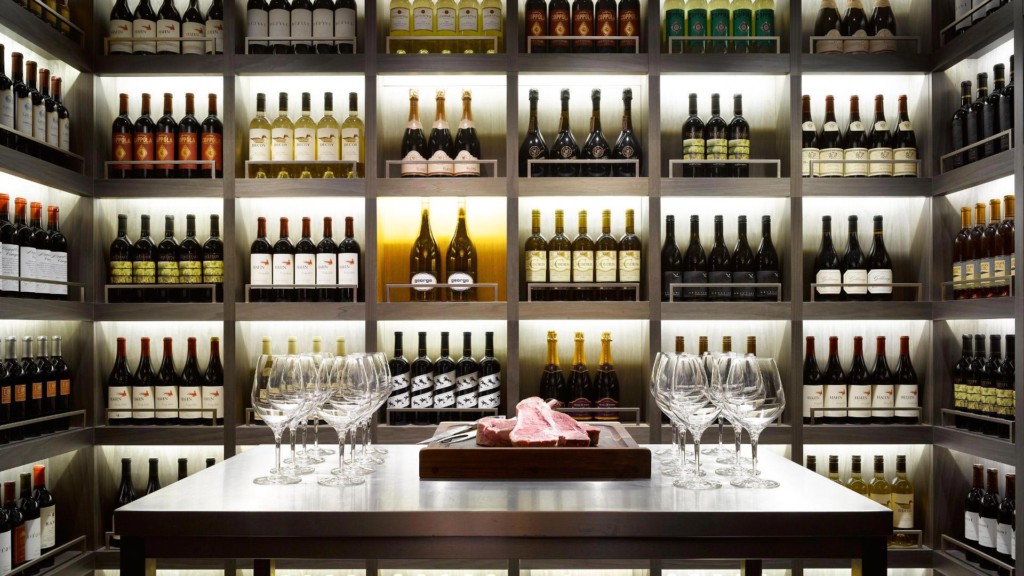 George also has an impressive wine list (and wine display), especially Californian wines – all the better to wash down those USDA steaks with.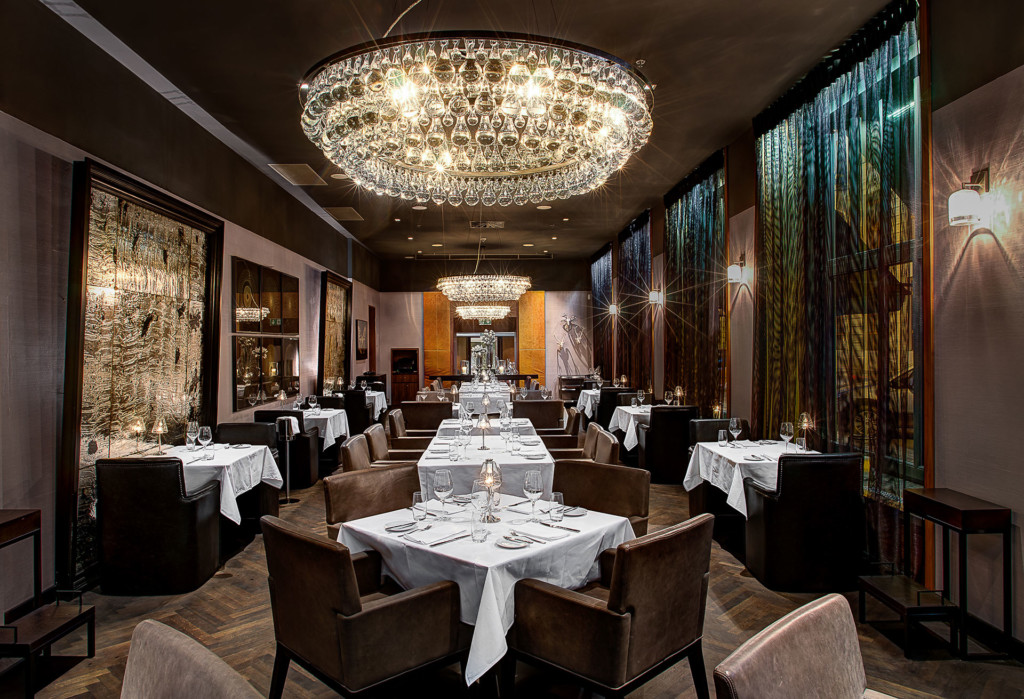 The dining room at tGeorge is also visually stunning – breakfast is served here in the mornings, so the restaurant space is not wasted during the day as it would be in a traditional steakhouse.
Michelin Guide Prague 2016
The dining room of the Emblem hotel is an authentic feeling American steakhouse decorated in black and grey. The USDA Prime steak comes from the Midwest and is best washed down with something from the impressive Californian wine list.
Another week, another city – wish I could spend more time here. Till my next article, Na shledanou (good bye).
EMBLEM HOTEL
Platnéřská 19
110 00 Prague
Czech Republic