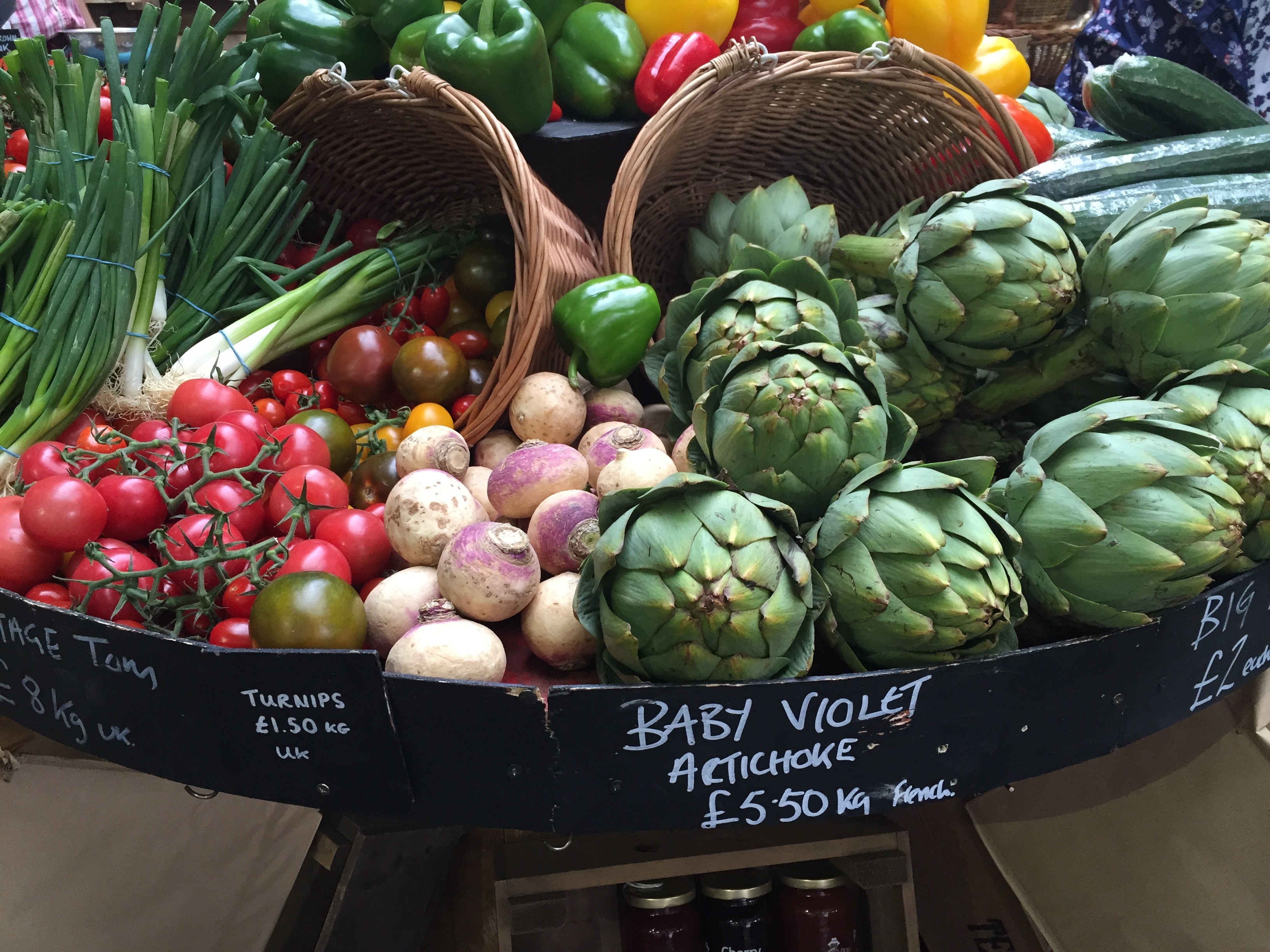 London never grows old on you. However, traditional British fare such as Fish and Chips, Meat and Game pies etc. are really not me, and nor should they be you if you'd like to stay slim and healthy like I have to in order to work well as a model.
I decided on my recent trip to this elegant old city to see if I could find some way to eat healthily through the weekend without compromising on taste.
First Stop : Wholefoods
Being in Wholefoods is like being a kid in the candy shop for me. They have probably everything I would want to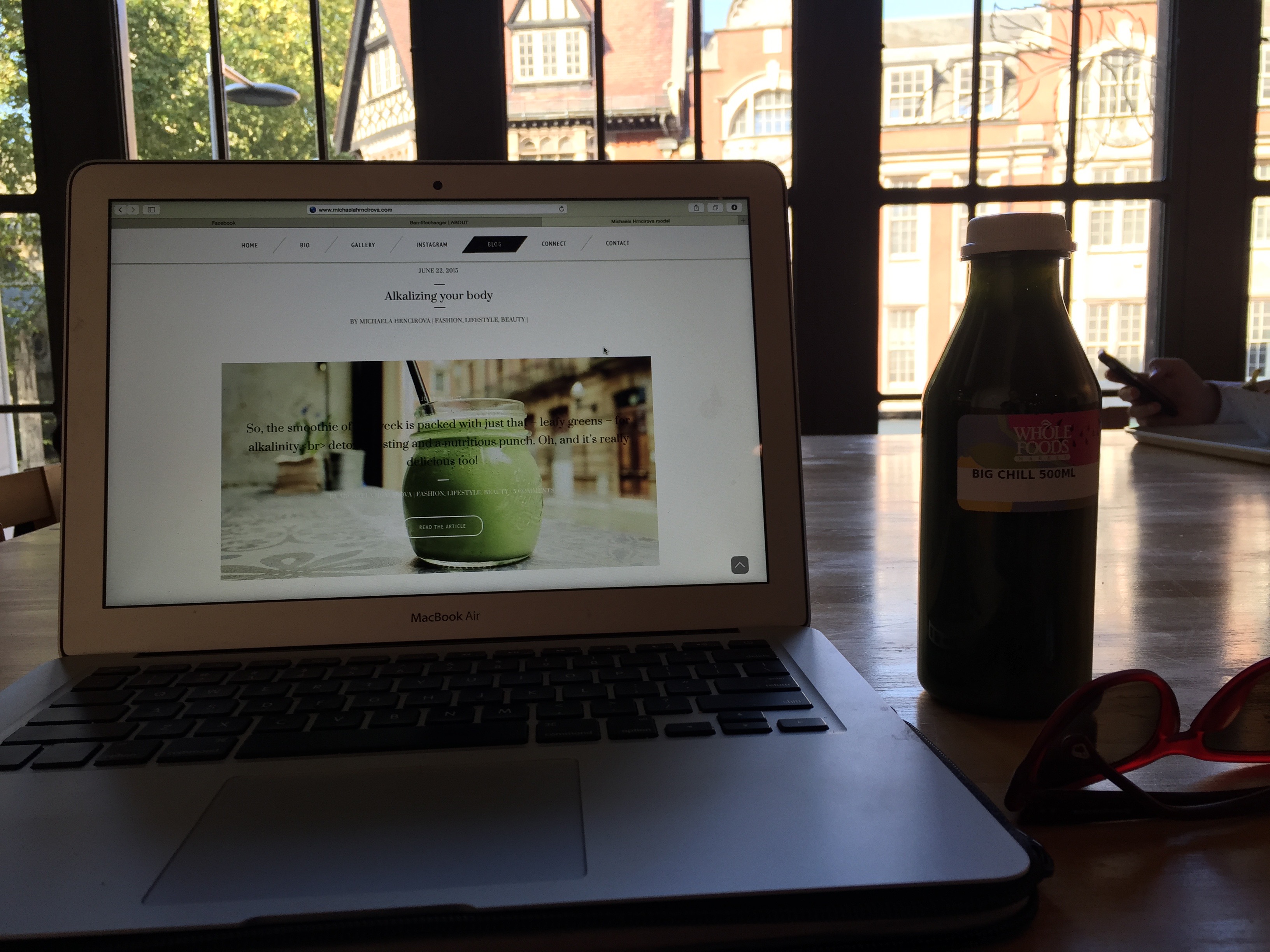 consume or use in my recipes – the philosophy of Whole Foods speaks directly to my heart – high quality natural and organic products. Besides the salad bar, cafes, amazing products, they also have promotional events. The store at Picadiily Circus is just way too crowded for my taste, so I made my way over to Kensington, which as a bonus has a little space on the second floor where I could catch my breath and have a bit of food and a think.
As luck would have it, my favourite cosmetic brand Siberica was having an event there the day I visited. I bought there hair mask and face serum with caviar. I love them both, so if you don't have it in your town, maybe check it out online.
Whole Foods Kensington
63-97 Kensington High Street
The Barkers Building
United Kingdom
Phone: (020)73684500
 Monday to Saturday 8am to 10pm
Sunday: 12 noon to 6pm for shopping.
Planet Organic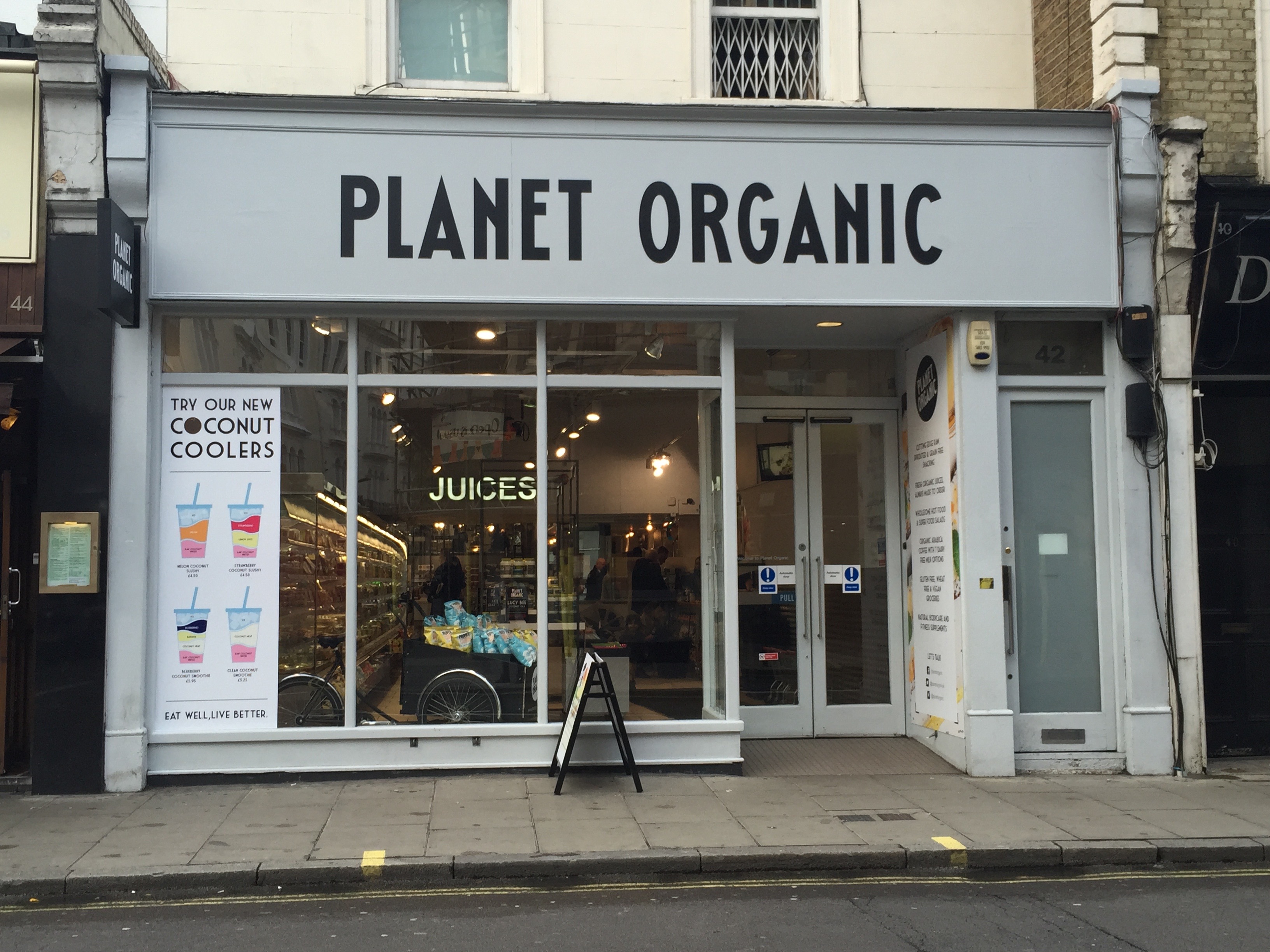 This is smaller, but has more unique and expensive stuff, and EVERYTHING IS ORGANIC – fruits & vegetables, artisanal breads from the neighborhood, meat and sustainable fish! Saving the earth and eating right doesn't get easier.  If there was only one reason for me to live in London, this would be it!  As a bonus, they have a wide selection of gluten-free, dairy-free and raw food.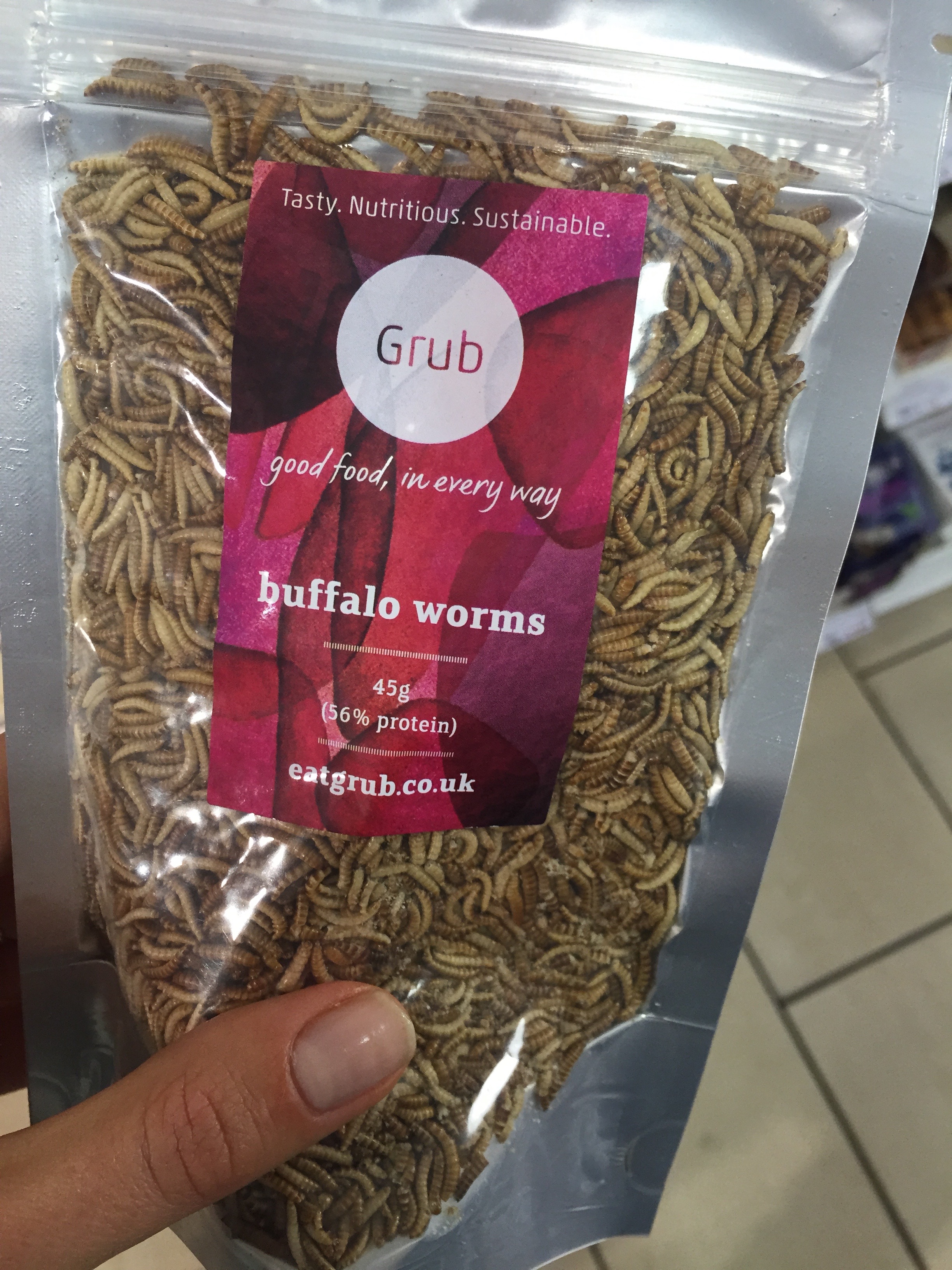 They also have some pretty esoteric stuff though – like these worms and also dried grasshoppers.
Grasshoppers! How cool is that? I totally regret not buying these – such a cool gift, and high protein/low carb snack.  Did you know that gram for gram, edible grasshoppers contain more protein than beef?  That was news to me.
It also surprised me that these grasshoppers are Dutch. Surely England has it's own grasshoppers?
For those who are adventurous enough, I found this recipe for "Curried Tempura Grasshoppers with Sweet Chilli Sauce"
Planet Organic also has great selection of their house products. All available on their online shop and free delivery if you can't actually make it to their store.
Planet Organic Westbourne Grove
42 Westbourne Grove
London
W2 5SH
UNITED KINGDOM
020 7727 2227
Monday – Saturday: 7.30am – 9.00pm
Sunday: 12.00pm – 6.00pm
Borough Market

Borough Market has just some of the loveliest fresh produce you can imagine. These Baby Violet Artichokes, for example. OK, so it's not exactly cheap – but you get what you pay for.

Also cheese – the most difficult part about going vegan for me is giving up cheese.
You really want to try and go there between Wednesday and Saturday though – on Mondays and Tuesdays not all the stores are opened (they call it "Limited Market" days) and the whole place is completely closed on Sundays.
Borough Market
8 Southwark Street,
London,
SE1 1TL
Tanya's Cafe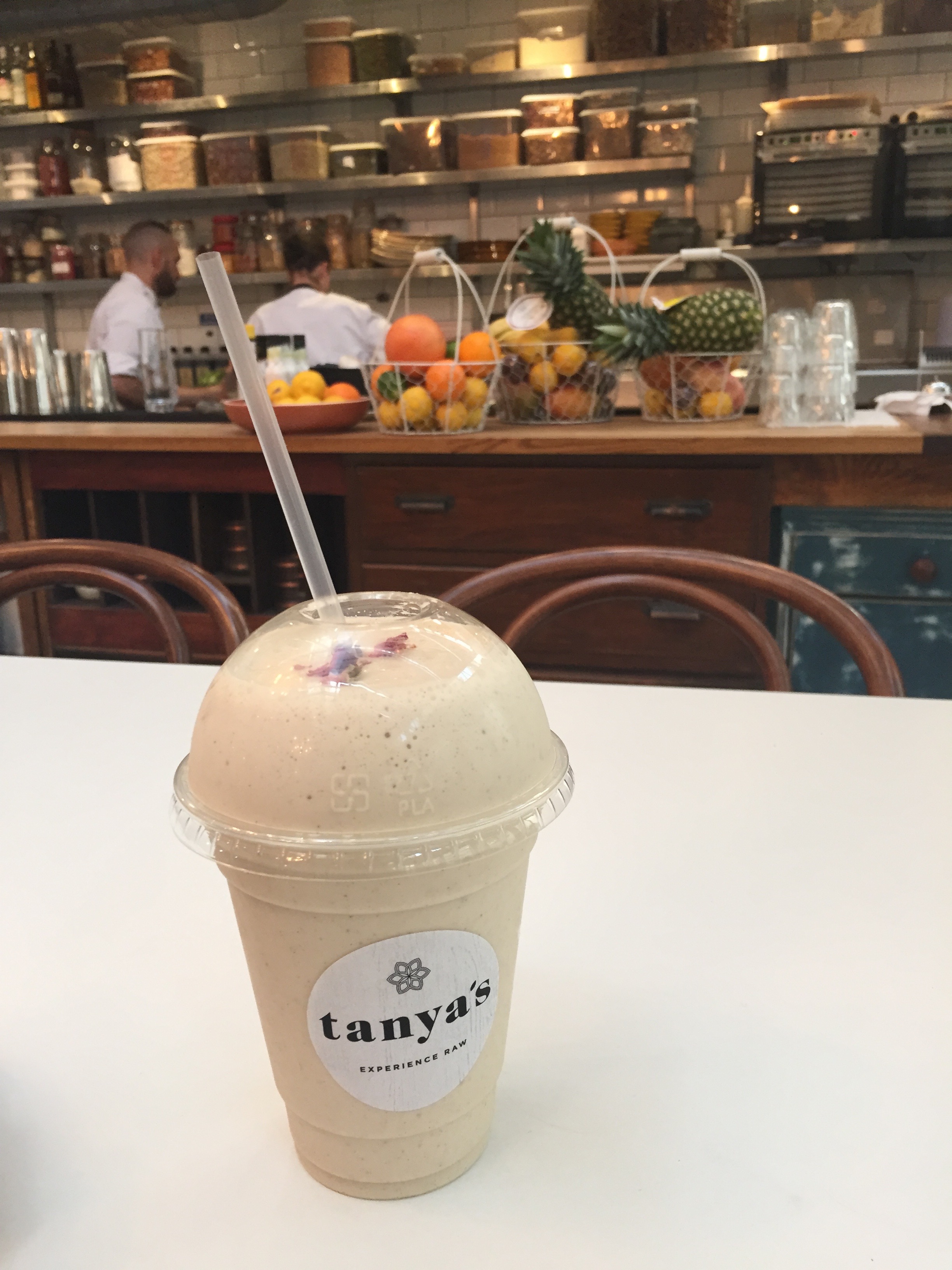 After a morning of browsing, I was hungry – and found myself right in front of Tanya's Cafe, where I had the best ever protein smoothie made with Sunwarrior protein. This vegan protein is one of my favorite ways to boost my protein intake without deviating from the vegan cause.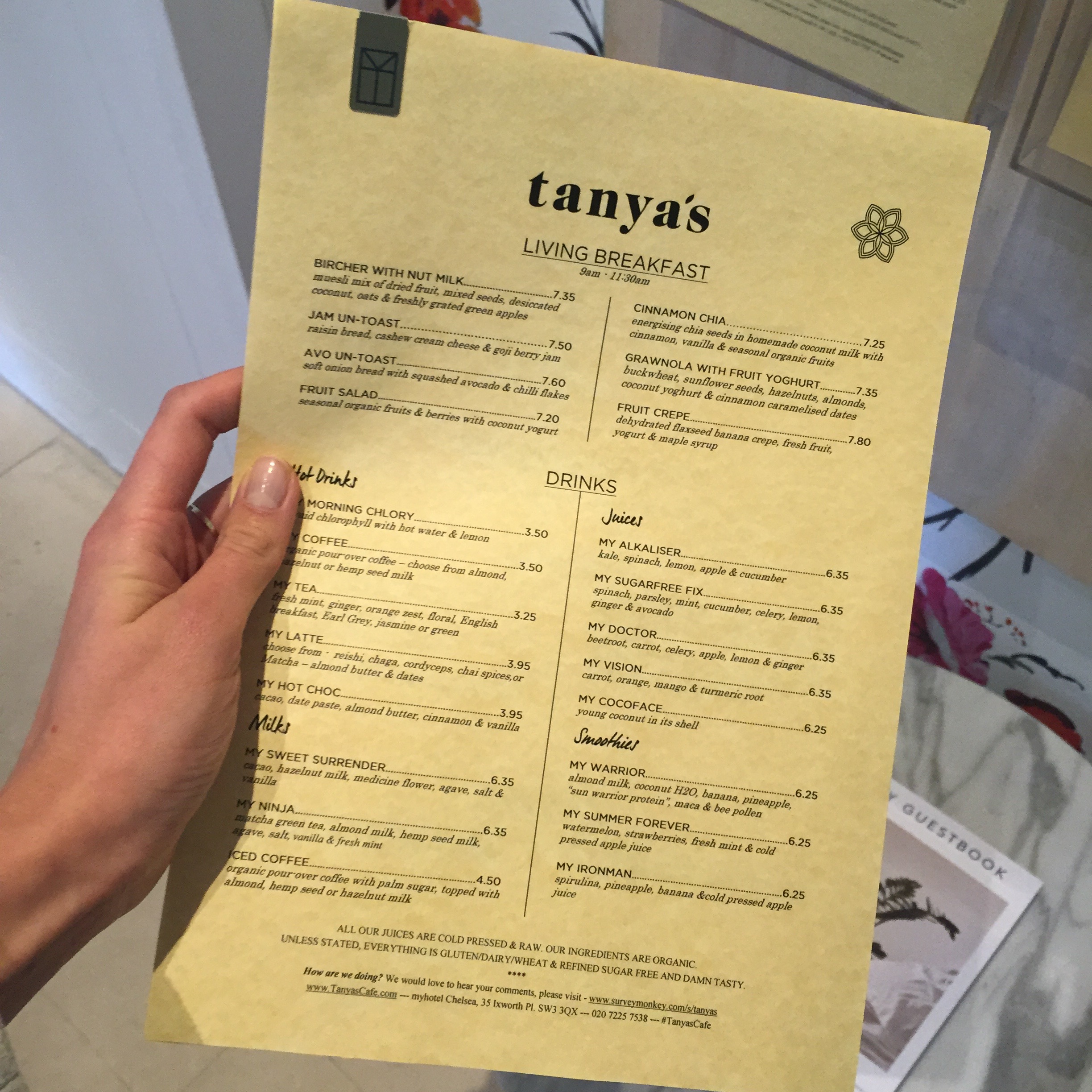 And the menu is simply to die for, don't you think?
Did I mention that Tanya is one of my personal heros?  This is someone I could definitely see as a role model in my journey towards eating right and inspiring others around me to do so as well.
Tanya's Chelsea
myhotel
35 Ixworth Pl
London SW3 3QX
020 7225 7538
Nama Foods
And last, but not least, Nama Foods – the reason for my birthday weekend in London being a raw food course in Japanese Raw Food – combining two of my foodie passions.
Situated in a very pretty neighborhood called Notting Hill (yes, that Notting Hill – but no, Hugh Grant wasn't there, swoon).  Rich Havardi who is both a co-founder and the head chef does these amazing raw-food creations.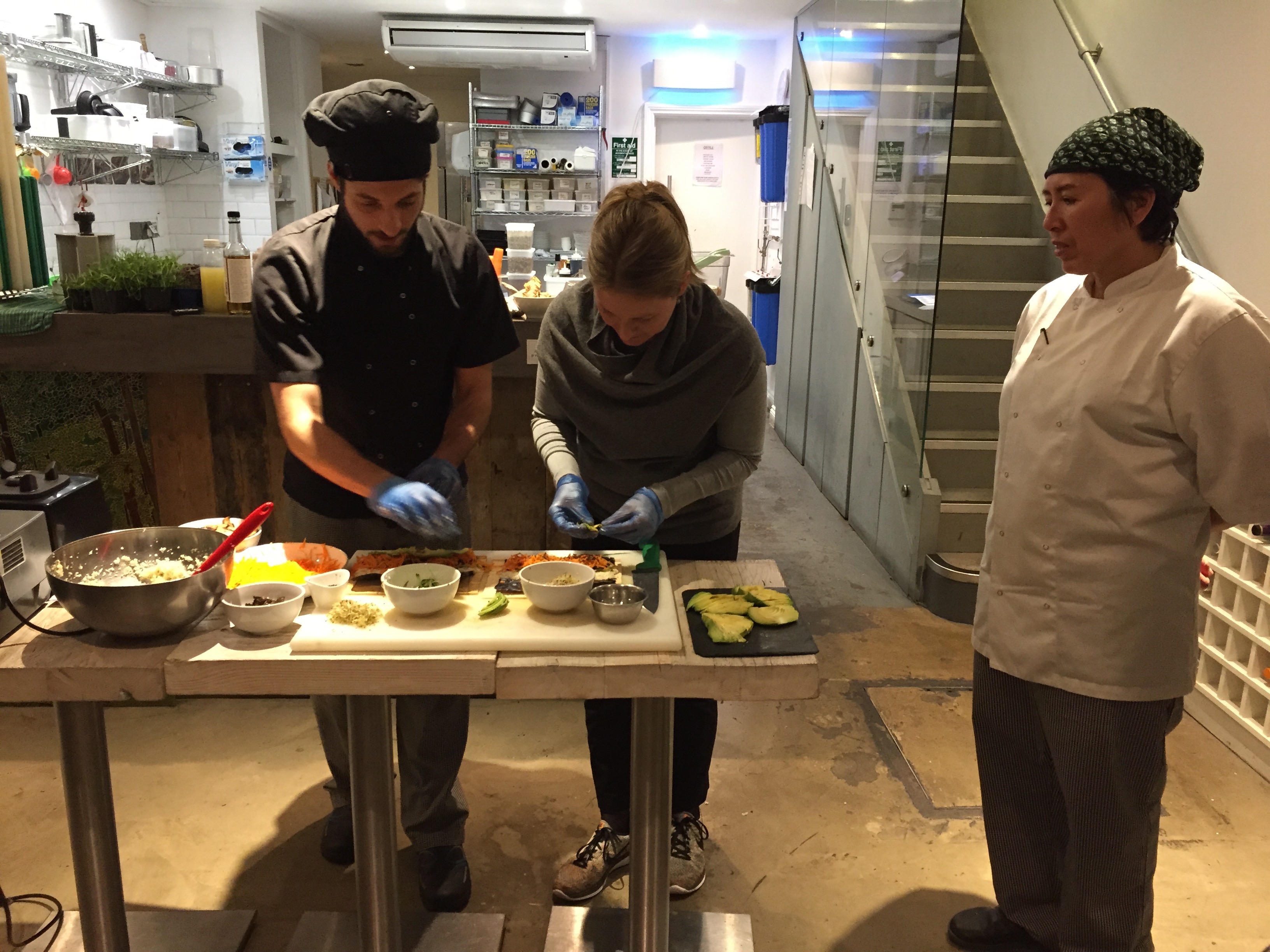 Here you see Rich himself preparing the recipes and teaching – the products he used were mostly from Clearspring – a brand of great Japanese raw vegan products that I didn't even know existed before I attended the course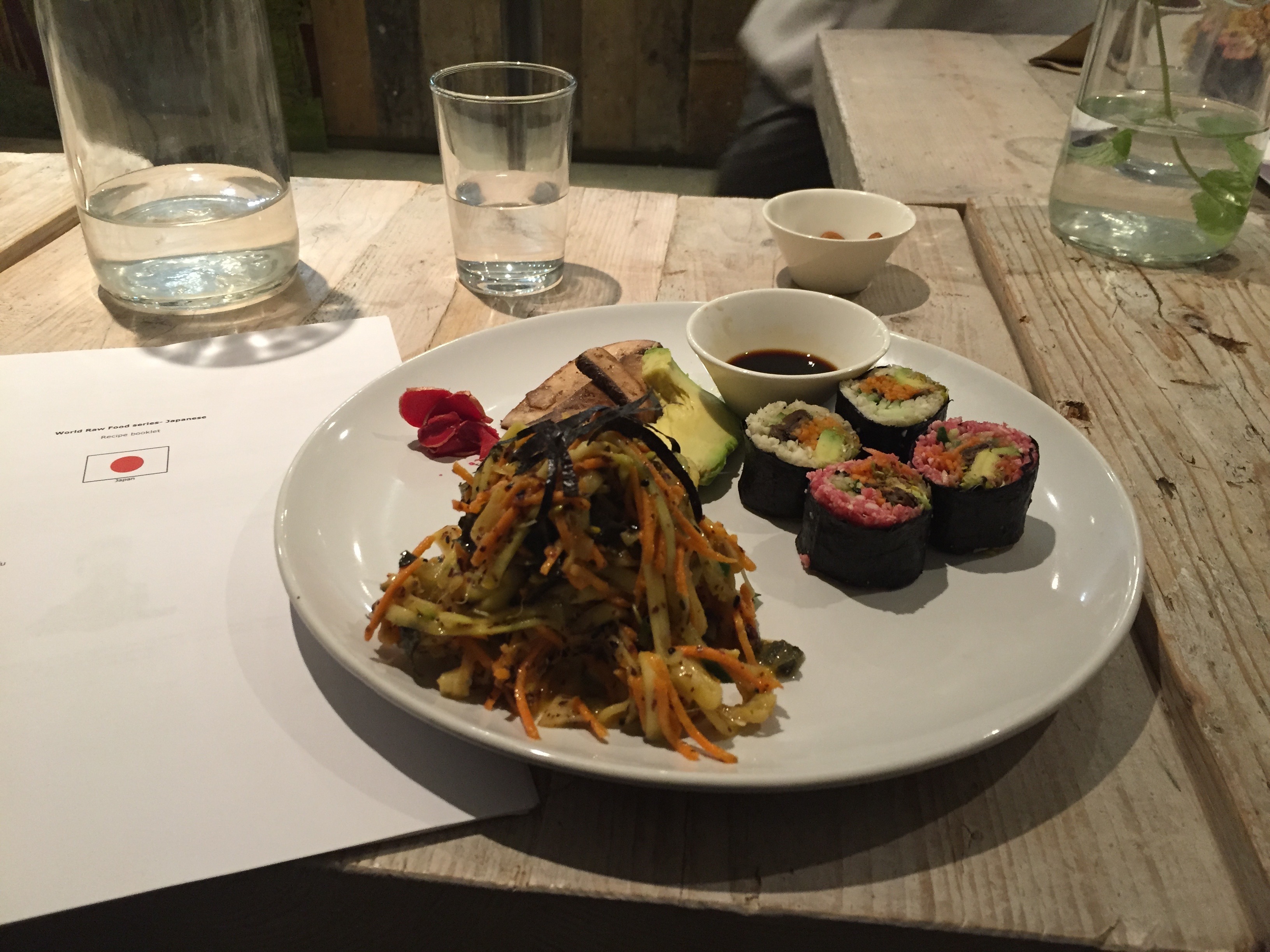 Here's what I made – and I'm pretty proud of it – two types of raw vegan sushi – no rice at all, obviously –  so purple cabbage and cauliflower base. Served with marinated mushrooms, raw ginger and a side salad. The soy sauce is, of course, from Clearsprings – but it's not soy as you know it – this is a Tamari Soy Sauce – completely gluten free (listed as such by the Coeliac Society)