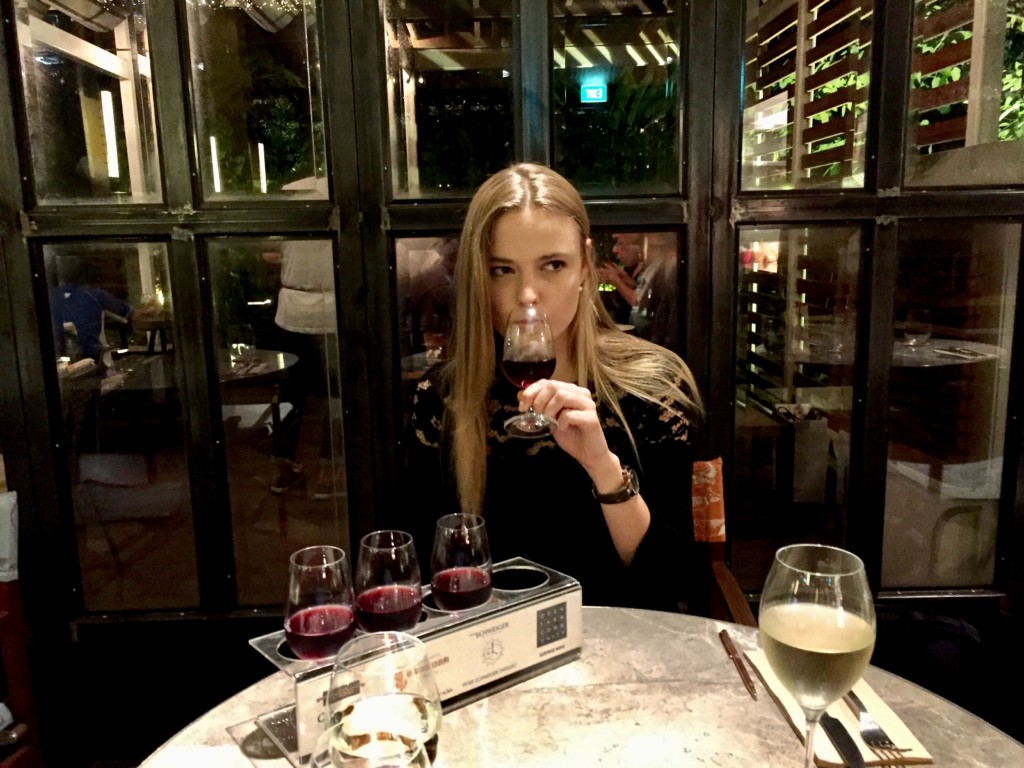 So, after a really long day at work and a killer hot yoga session, I'm just about ready to head on home, throw a salad together and eat in bed, but X has other ideas – "Come, let's go to Open Farm Community", he says. "You'll love it – they do farm-to-table, and the restaurant is right in the middle of the garden". Hard to say no to that. Where does he even get these pitch lines from? I suspect I'm not the first girl he's used this line on, but so far so good – all the restaurants have been, oh, I don't know, amazing?
From the humble entrance, I would never imagined that each dish would be so beautifully presented, and the cooking so refined – a light touch here and there to bring the best out of the locally sourced produce. Everything was very well put together – the atmosphere, the food and even the concept. Having their own garden-grown organic produce, especially herbs, makes everything a bit more special, and a warm human touch.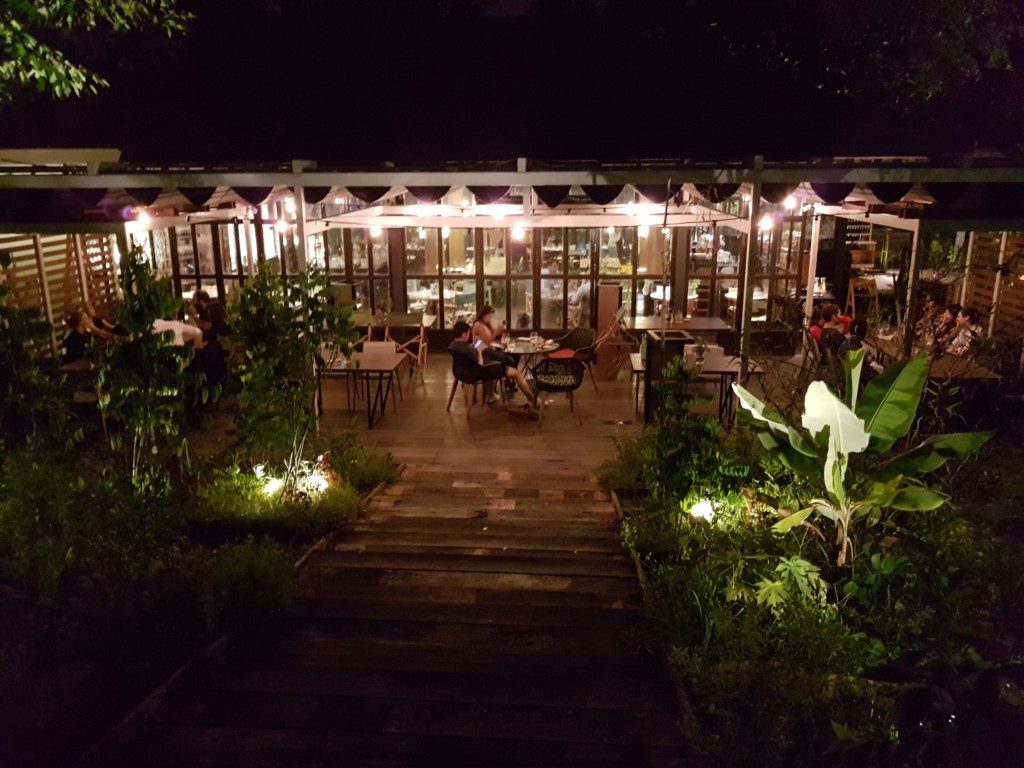 We wandered into the back garden, where presumably they grow some of their own produce, and it was absolutely dreamy. From here, the restaurant looks almost like a "green house" with big narrow windows.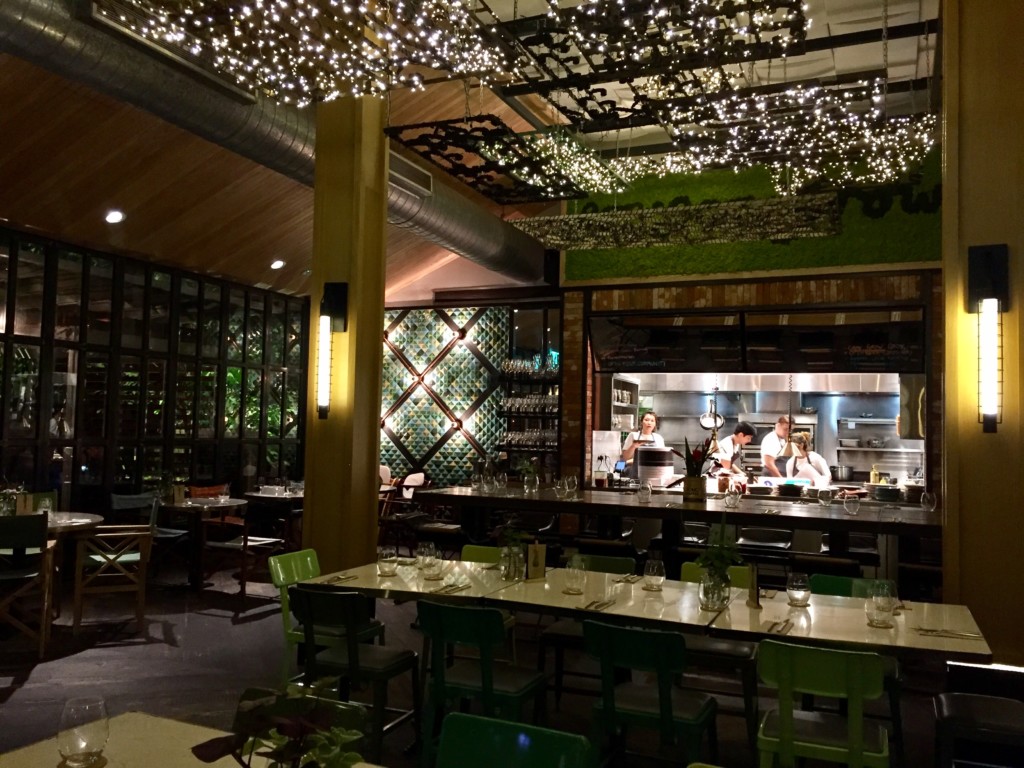 The open kitchen concept was brilliant – especially since the brightly lit kitchen against the subdued frames made it feel like I was watching a cooking show – except that the television was life-sized – and I could smell the food – oh, all that anticipation!  The decor is stylish, tasteful and kinda "one with the earth" as you would expect for a farm-to-table type of place – jars of herbs on each table etc.
The infused water tasted a bit of orange and grapefruits. Finally – a place that doesn't lead with "still or sparkling" – such a carbon footprint moving bottles of San Pellegrino from across the globe. Besides of which, we're in Singapore – the tap water is not only potable but delicious.
Entrees
Because we had come to dinner right after hot yoga, I wasn't particularly hungry, so I just had an appetizer as an entree- a warm broccoli salad. Quite possibly, this the best warm broccoli salad I have ever had.
Warm salad of broccoli, pine nuts, sugar snap peas,crumbled feta, minced mint. ($20)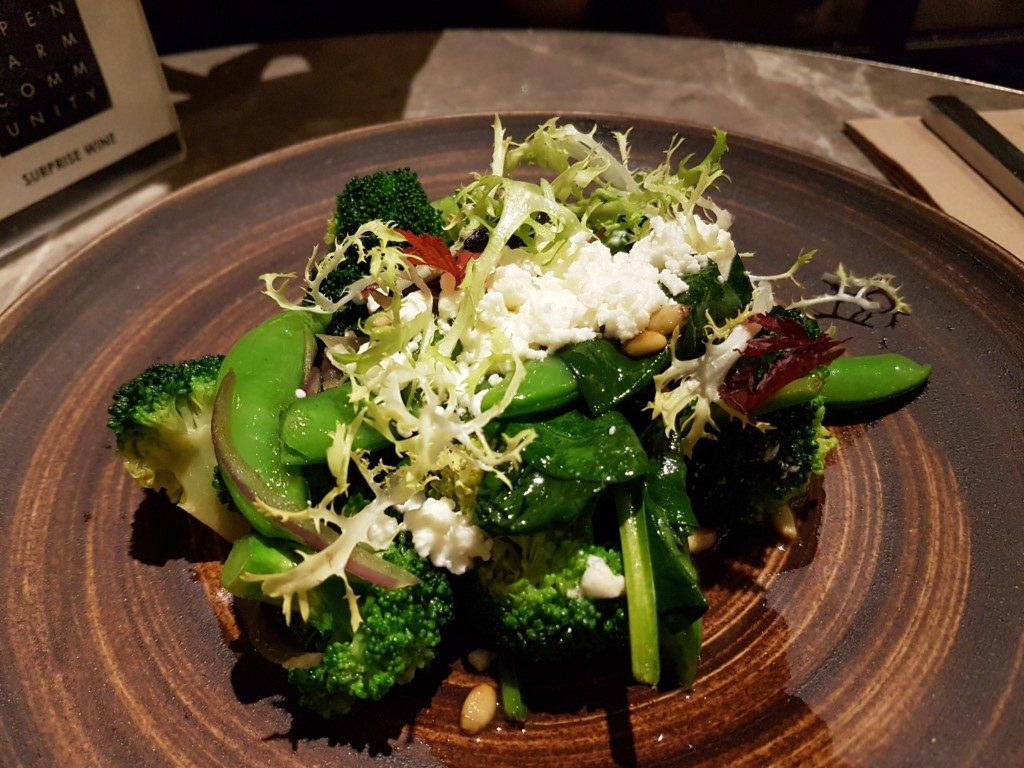 Warm broccoli with sugar snow peas, some greens, goat cheese, pine nuts and nice simple dressing with the taste of mint leaves. Western ingredients with a light touch of Asian flavors – defintely one of those modern fusion dishes. In keeping with the whole closer to earth theme, this is served on natural wooden plate.
Carnaroli risotto, chorizo, cuttlefish, ebi, green peas, saffron threads, crispy serrano. ($30)
X had the Carnaroli rissoto, which I sampled – also delicious and inspired – but unfortunately he got into it even before I could take a photo.
Wine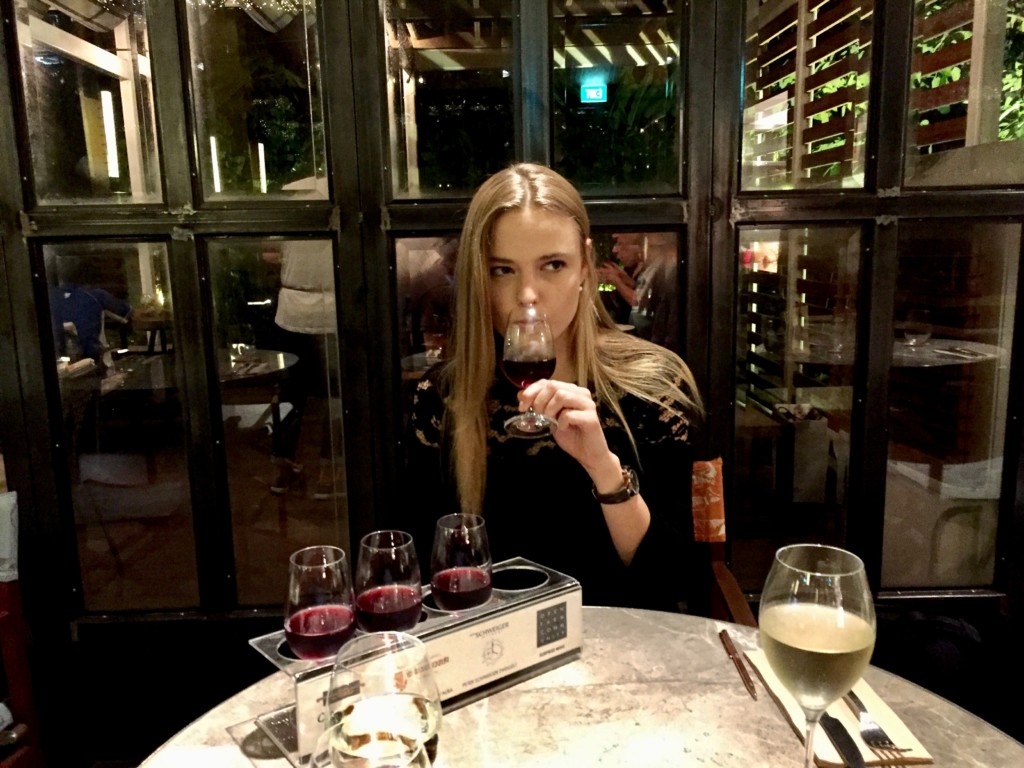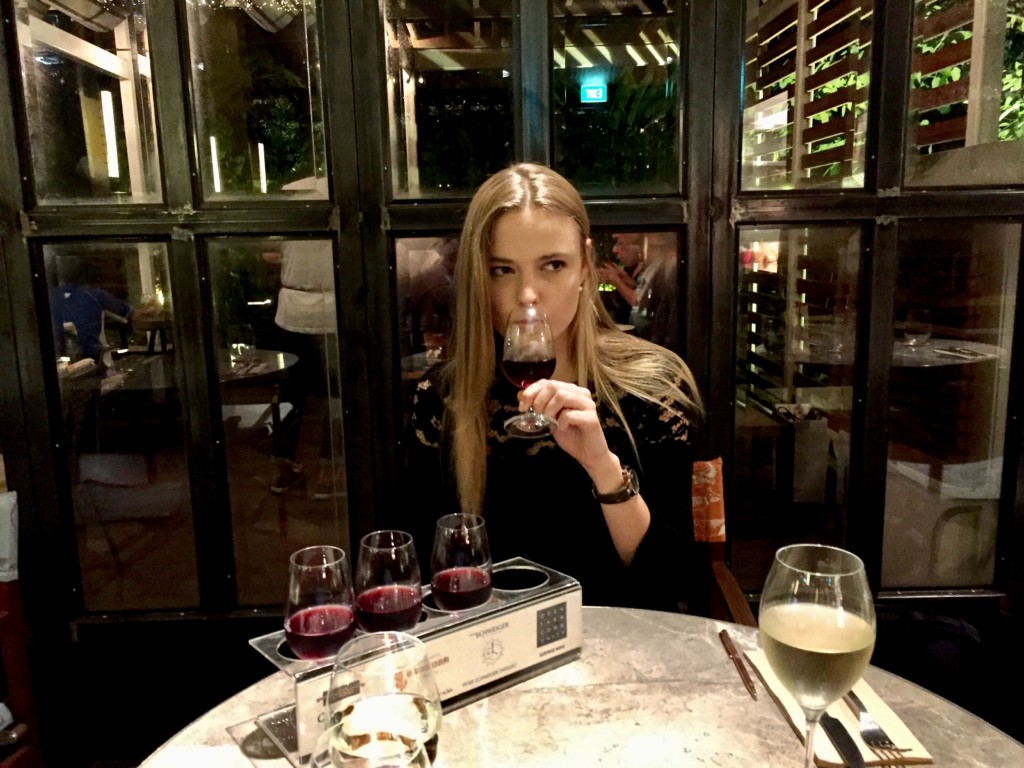 We decided to do a red wine tasting with one glass of Pinot grigio on the side. Amongst the red wines, our clear favourite was G.D. Vajra Barbera D'Alba. 
Dessert
Thanks to having recently read Steven Covey's "7 Habits of Highly Effective People", I had decided to "begin with the end in mind" and read the dessert menu before even ordering my entree. This was an easy decision, as the whole time we were studying the menu, I could see servers walking past us with these amazing dessert creations. As good as our mains were, dessert was the true highlight – very light, crispy medallions of both yellow and red watermelons that were lightly roasted and served on chocolate crumble with ice-cream and sorbet. Highlight of this dish was the decoration of dill and the blue pea flower.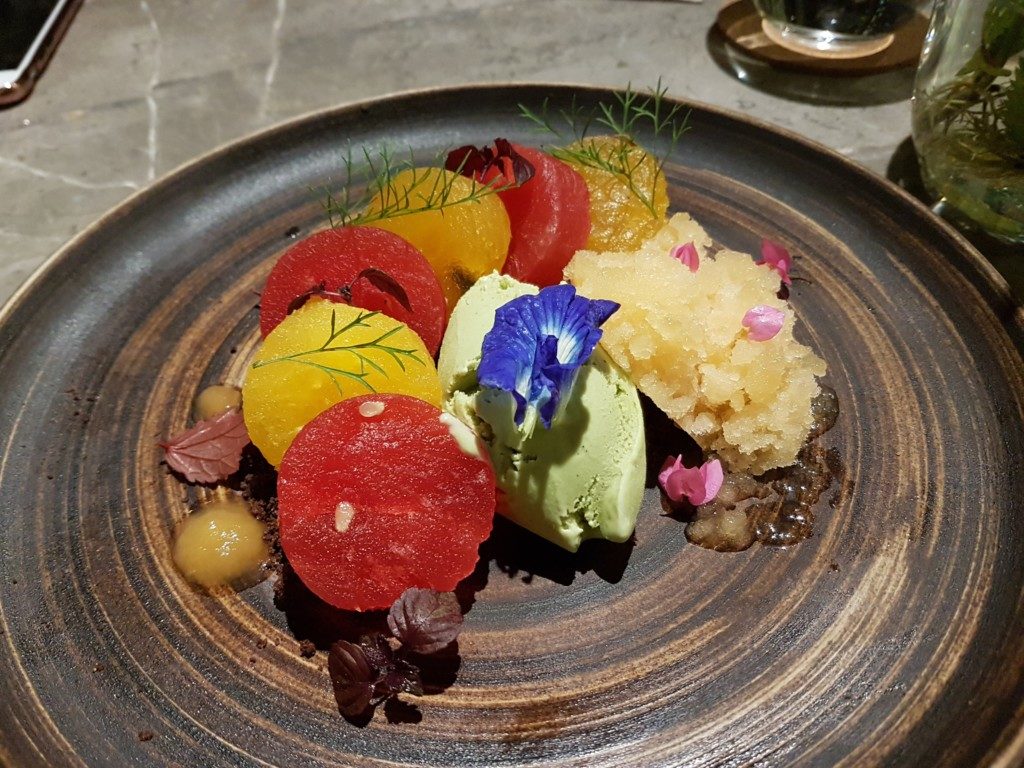 Conclusion
I had a few doubts before coming here – whilst Singapore may be called a "garden city", it's not typically a place I'd associate with local farms, but the urban farm concept works hand-in-hand with the farm-to-table ethos really well.  Later, I would also find out that the menu is the brainchild of Ryan Clift of Tippling Club fame (presently #36 on the list of "Asia's 50 Best Restaurant", so it's really no wonder the food is so amazing.
OPEN FARM COMMUNITY
130E Minden Road
Singapore 248819
Reservations +65 6471 0306
.Enquiries: +65 6264 796