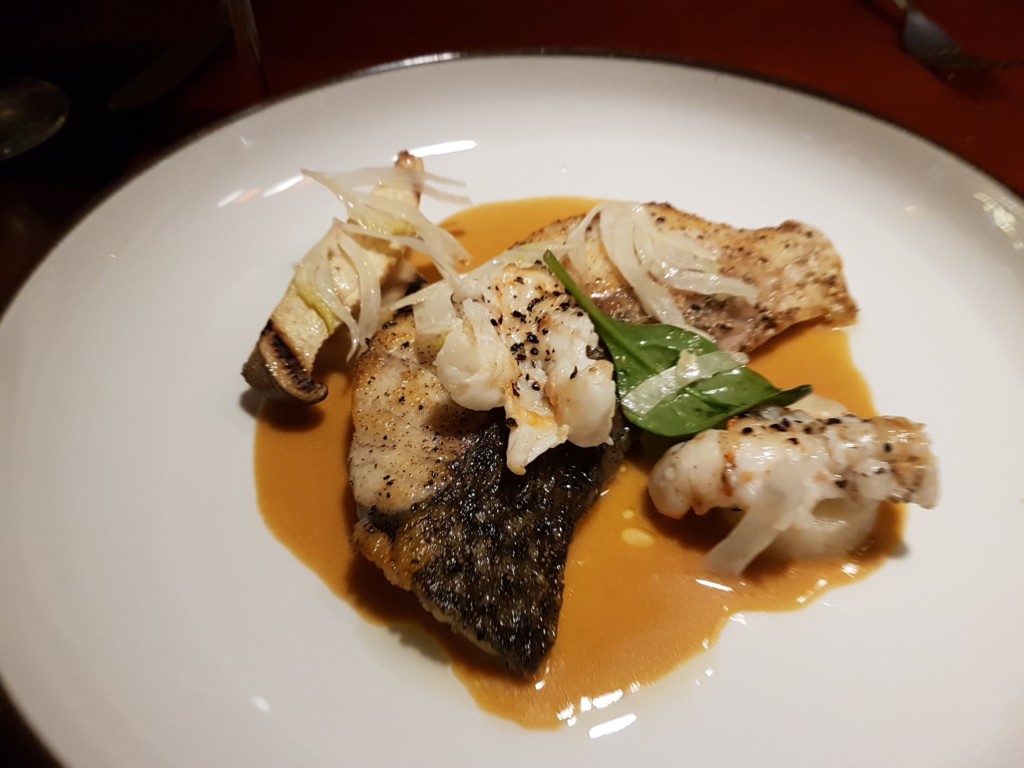 Two hours before this dinner…
I was in my pyjamas listening to music, sipping on green tea and enjoying a pleasant but slightly boring night. Well. UNTIL. I received a call. X on the line, excitedly. "I've got good news! Got us an amazing spot for dinner tonight at Usquba – New Scottish Food." – I tried to to repeat U-Q-BAR? Hm, Scottish, sounds good – I've never even been to Scotland. But, How's the food? And where? … " Can you get ready in 20mins?"
A few minutes later I dash through the shower, put on some red lipstick (As they say, red lipstick makes any girl look dressed up). I jumped into an Uber and despite some traffic, finally arrived at One Fullerton.
We were seated in a booth by the window, great view, yet cozy and somewhat private. Spacious and welcoming cosy chairs in warm colors dot the room. Looking at the menu, it was clear that charcoal grill & fine whisky were their raison d'etre. I wondered silently – "Who is the chef here at UsQuba?"  The UsQuba's team is headed by executive chef Guven Uyanik, who trained under Scottish-born celebrity chef Gordon Ramsay– dishes out what they call "New Scottish" cuisine.
"Exciting! We are ready to order." .. I was very pleased by the first appetizer – probably helped in no small part by the wine pairing
Angel hair pasta with champagne vinegar, topped with caviar, fresh chives and of course – the truffle! So light, yet rich in flavors. This dish was paired with a glass of Dom Perignon 2006.
The next, we had pan-seared foie gras with grilled fig – foie gras ganache with hazelnut and chocolate balsamic. Velvety and soft inside, yet crunchy and nutty on the outside. Luscious combination, paired with glass of red wine – Habla De La Tierra 2014.
To refresh our seduced taste buds, we had this fresh sea bass with langoustine, celery roots, radishes and top with ice shaved horse-radish. The ice horse-radish snow giave the dish new swirl! I loved how its crisps notes worked with the glass of Chardonnay, Kind Bastards 2012.
The highlight of our dinner was, of course, the steak! It is after all a whisky and grill.
Grilled Wagyu Rib Eye with port wine reduction, grilled green onion and eggplant puree. As X said, this wagyu was one of the best steak he had in a long time. (I believe it, mine too!)
With the steak we had glass of red wine – Garbole "Hatesso" Amarone della Valpolicella Riserva 2008.
I felt like the dinner would be perfectly fine for me without the dessert, but it was part of our menu. However, it was also a nice sweet touch at the end and especially I enjoy the glass of 20 years old port wine – Quinta do Vallado!
In UsQuba are suggested wine pairings, but you can also option for whisky like a Toumintol 1967 Single Malt,  a Samaroli Speyside 1973 or a Single-Minded from independent bottler Douglas Laing.
UsQuBa
Address: One Fullerton
1 Fullerton Road,
#02-03B/04,
Singapore 049213
Contact: +65 8723 6378
Website: http://www.usquba.com/