Once upon a time, there was a little girl called Alice who fell down a rabbit hole, but this is not that story …
The car stopped in the middle of nowhere, well, not where I expected to be at least. Mr. X  promised me a nice place, but i only saw a few palms and an old chapel behind. The closer we got, the more mysterious the place looked. The door opened and I walked into beautiful chapel that was nothing I'd expected. Literally, I felt like I had tumbled down the proverbial rabbit hole, and there was some sort of magic in unexpected, but the best was yet to come..

The White Rabbit menu swung in front of my eyes quickly and with a blink of eye I already knew what I want. If you know me a little, then you know as healthy I am, I also love my gin and tonic from time to time.
"Hendrick's Gin, please." 
A few minutes later, comes the bartender with a glass. On top of the Hendrick's gin, the bartender spritzes on a house tonic with a soda siphon (this makes it less bubbly as industrial tonics, but foamy and refreshing).
With every sip, I couldn't get enough of the scent of the raw cucumber and beautiful rose petal garnish.
Apparently, they serve 15 different Gin brands and each cocktail comes with  generous house-tonic pour. All the G&Ts sounded so delicate, with beautiful garnishes – rose petals, dried citrus, rosemary or lemongrass – all grown there in The Rabbit Hole's garden!
Obviously, the drinks touched my heart and I was down to have dinner here.  And, Since I had my "cheat day" ( lol, I think i have cheat day kind of often now ) I wanted something i wouldn't normally order. How about Truffled Pasta?
This Chapel must have some "wedding" fairytale dust, I would say "yes" to everything on their menu. No wonder, this place is hidden gem for the wedding's events  🙂
The Truffle pasta comes with light truffle cream, cheese crisps, shaved truffles and perfect 63°C Onsen eggs.  (Love the egg, especially the rich egg yolk gives the pasta creamy, sweet umami taste.)
All right… from now on, I think my love for food took over me and making decisions – I agreed to have dessert!
I rather go for quality then quantity so we decided for Valrhona duo chocolate cake with lavender ice-cream.
The chocolate cake tasted exactly like how I imagined a Valrhona should be like, slightly bitter, dark and sexy.  The lavender ice cream perfectly complemented the dessert, composed soft touch with almost sorbet-like texture. Dusted with gold powder, it was bliss with every mouthful.
I'd found my Wonderland. Or at least the place I can "disappear" for a while and enjoy this lovely space.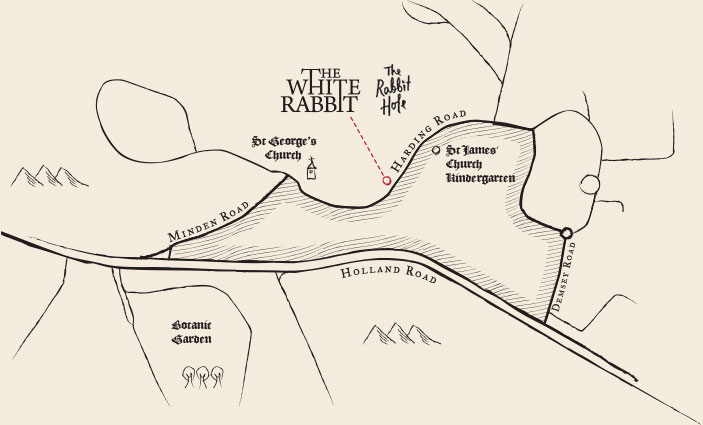 White Rabbit
Adress: 
39C Harding Rd, 249541