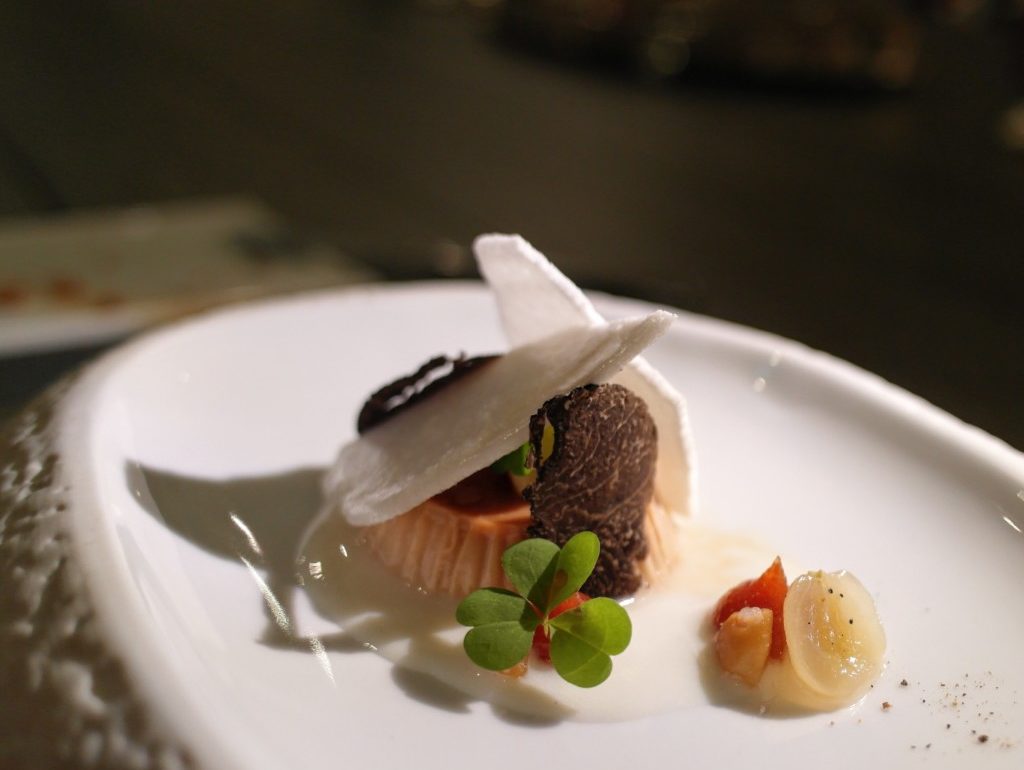 So lovely to have a chance to revisit my favorite Michelin star restaurant in Singapore – Alma by Juan Amador.  There are so many reasons to love dining here – the charm of being in one of the old grande dames of hotels – Goodwood Park Hotel, the attentive and dashing men in the front of the house and last but not least, the amazing food. It's obvious that so much love has gone into the creation of this menu it almost makes me cry. Did I also mention the really excellent wine pairing? That did in fact bring tears of joy to my eyes.
First up on the table is this artistic play on twigs and leaves. Not just normal leaves, obviously – the leaves were (two of each, since there were two of us) made of Artichoke Crisp, Crispy Chicken Skin, Beef Jerky Chip and Green moss.  I loved the subtle spiciness of the Beef Jerky – it was totally unexpected but worked perfectly with the creamy bone marrow mayonaise.
Next is this eggs en coccote, which I had before, but somehow this time around has been subtly enhanced with I think just a pinch of truffle. Oozes that whole umami flavor thing. Dipping those wafer thin deep-fried mushroom crisps into the egg, and lifting them out (see video) is just pure theatre.
The bread basket – more bread bag – comes with hot stones on the inside to keep the bread warm. Such marvellous attention to detail. This time around, instead of their famed potato bread, it comes with what are essentially mini croissants embedded with chopped spring onions. Holy fusion food, batman!
The first course of Scottish beef tartare – comes topped with beurre blanc, caviar, oysters and edible flowers – super light on the palate. This also marked the beginning of the wine pairing – a 2013 Conundrum from California – light and fruity.
The next dish is Foie Gras – comes beautifully decorated with black truffle shavings and meringue crisps. The muscat grape and jam act as a beautiful counterpoint to the richness of the foie gras. This was also paired with the Conundrum.
The Norwegian langoustine sits in a pool of almond broth made infused with pata negra ham – such an interesting balance of flavors. Decorated with dill and apple.
This came paired with a 2010 Jazz Chardonay from New Zealand.
Instead of artichokes, we had this Boston Lobster (which will be part of the upcoming menu, Giuliano advises) – floating in a foam of langoustine bisque. This worked well with the peach chutney, squid ink crisps and lobster egg powder. Who even knew squid ink could be crisped?
This was paired with a very lovely 2010 Frank Family Chardonnay – this had a little bit more oak than the first, which worked really well with the dish.
I'm not usually a big fan of pork – there's sometimes a faint odor. This is definitely not true of the Iberico pork jowl. Pure piggy heaven here. Well, at least the piggy went to heaven so that I could too. Tender chunks of that Iberian pig simply melt in my mouth. Of course it helps that it was slow cooked for twelve hours and painted with a Thai barbeque glaze. Sprinkled with crispy quinoa for a nice contrast in texture.
This was paired with a The Great Flyte Cabernet Sauvignon (2013) – Using Passenger Pigeon from 'Birds of America' (published 1827 ~ 1838) by John James Audubon as the wine label, 'The Great Flyte' is a easy to drink Cabernet Sauvignon from Napa Valley available exclusively at Alma. It has aromas of ripe blackberries, cherries, plums and hint of spices, and a velvety tannin.
Dessert is a block of yogurt, with a salted caramel that I'm told is a dulce con leche made with smoked milk and brown sugar – so a little less sweet and a little salty. So perfect I forgot to take notes.
At Giuliano's urging, we finish the very successful dinner with a five-year aged Calvados. This works perfectly with the dessert, which is a seriously dangerous discovery. Twice the sugar, all the fun.
We finish with a set of petit-fours – with a specified sequence of tasting – Milo dinosaur, the ever popular Gula Melaka Caneles, and last but not least the Lemon Curd Tart with lavender jam.
All in all, a very successful dinner and wine pairing. I hope to see a second star on the door in due course.
ALMA BY JUAN AMADOR
22 Scotts Rd,
Goodwood Park Hotel,
Singapore 228221